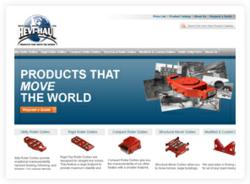 I worked closely with Acumium as they listened to my ideas, shared their own and ultimately brought my vision to life with their expertise.
Madison, WI (PRWEB) April 11, 2013
Acumium, an internet-focused firm who helps businesses grow online by providing strategic website consulting, online marketing and full-service website design and development using their content management and eCommerce platforms, launches two redesigned websites for Hevi-Haul, a current customer and long-time user of the AcumiumCMS™.
Hevi-Haul International is a manufacturer of moving skates and custom roller dollies for many industries across the world. Since 1938, they have been making "products that move the world." Their custom designed and manufactured products are used to move anything from a heavy piece of machinery to an entire house.
Acumium and Hevi-Haul have been working together since 2003. Hevi-Haul uses the AcumiumCMS™ to manage two different websites, one for Hevi-Haul, and another for Lange Lift, a division of Hevi-Haul which manufactures industrial lift tables. The websites had served Hevi-Haul well for many years, but with new technology, search engine updates and other developments across the web, the design and functionality of the sites needed an update.
Dave Knaebe, COO of Hevi-Haul International, says "With technology changing and the ways businesses interact with their current and potential customers constantly evolving, we wanted to make ourselves more accessible to them, as well as improve the depth of information we provide and how we provide it."
The current websites had an outdated look and feel and the category structure made navigation of the site difficult. The website was also not competing well in search engines on some of the company's core keywords.
Hevi-Haul decided to redesign their two sites and move to the newest version of Acumium's content management system. As part of the redesign, Acumium provided guidance around keyword research, URL strategy and category navigation structure. To maximize their budget through gained efficiencies and to maintain consistency between the brands, Acumium used the same design shell and templates for both Hevi-Haul and Lange Lift.
Knaebe says, "I worked closely with Acumium as they listened to my ideas, shared their own and ultimately brought my vision to life with their expertise. Acumium's CMS platform is very intuitive and easy to use, allowing us to add new products and information in an efficient manner. Acumium's high quality design brings our content rich websites to life making for a very user friendly experience."
The new sites feature a "request a quote" form on every product page which, when submitted, will inform Hevi-Haul which product page the person visited along with the contact information and customization requests. Since the launch of the new site, Hevi-Haul has seen a significant increase in quotes submitted via this online web form.
The redesign also had a significant impact on the company's search engine rankings. Hevi-Haul went from not ranking at all for the search query "roller dollies" to having three different category pages of the site rank on the first page of search results in Google.
Jyll Rademacher, COO of Acumium, says "It was great to work with Dave and help him achieve the results that were important to him. The SEO improvements that we made brought the company into a new realm that now allows Hevi-Haul to compete with some of the biggest companies in their industry."
About Acumium
Acumium is a technology and marketing firm providing full-service internet solutions to help businesses grow online. They partner with clients to provide strategic eBusiness consulting and online marketing while designing and developing websites on their proprietary content management system (CMS) and eCommerce platforms.
Acumium Clients
Companies utilizing Acumium's content management system, eCommerce platforms and online marketing services include: ProClip USA (makers of phone and device mounts for cars), Growing Tree Toys (online store for educational toys), Steve Spangler Science (a science education resource for students and teachers) and the Wisconsin Alumni Association (an organization dedicated to University of Wisconsin graduates).