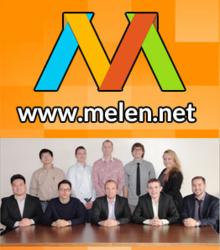 Little Ferry, New Jersey (PRWEB) December 13, 2012
On December 10th, Melen (http://www.melen.net) launched a completely redesigned website. The new website sports a sleek design with super simple navigation.
Melen's old website had hundreds of pages. The new website has just five. "We are not offering anything less," says Co-Founder Michael Melen, "we are just making it simpler for the consumer to understand."
"When we were writing the content for the new website we kept asking ourselves, would our grandmas understand this?" The website was stripped of all technical explanations and replaced with simple words and short sentences.
This new approach goes along with a recent trend on the web - simpler is better. Microsoft's Windows.com went through similar website changes in 2012 as well and Apple.com has been doing this for years.
The website gives you a glimpse into the parent brand of some of the most successful brands on the internet. From the people behind the brand, to candid office pictures, you get an exclusive view into Melen. "When a customer purchases a product from us, whether it is web hosting or a new military jacket, they want to see who's behind the scenes. They want to know where their money is going," says Co-Founder Alex Melen.
You can visit Melen's website at http://www.melen.net.