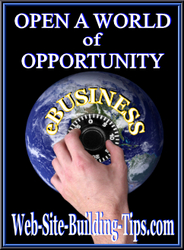 "I didn't know the first thing about how to construct a website, I just knew I needed one," said Dolan
Boston, Mass. (PRWEB) May 22, 2010
Sue Dolan, founder of Web-Site-Building-Tips.com, built the instructional step-by-step site building guide she couldn't find when she wanted to build her own website. Now, she is making it easy for others who have no experience or skills to build their own website with a powerful, yet simple, online resource.
"I didn't know the first thing about how to construct a website, I just knew I needed one," said Dolan, who also created the online e-learning site on DIY facial rejuvenation, the Skin Care Resource Center (skincareresourcecenter.com), and is the author of Naturally Skinsational, the first-ever natural skin care and anti-aging recipe book of its kind. "After going through the challenging process of creating my skin care website, I decided to develop an online website building resource with all the tools, instructions and web site services that allow anyone to easily master cyberspace; especially for those that consider themselves technological "e"diots like I did when I started my first website."
Web-Site-Building-Tips.com helps those with an entrepreneurial spirit, a passion to share or who are simply interested in a new hobby to capitalize on the rapidly growing trend of website commerce to earn extra income. Creating a website provides the perfect springboard to launch a profitable ebusiness that continues to grow and expand almost effortlessly over time.
Web-Site-Building-Tips.com offers straightforward, simple, step-by-step guidance on how to start an online business. The site's philosophy that anyone can build a successful, profitable website caters to even the most "e"literate web site owner wannabes. Dolan has become a website building mentor and provides website help to many of those who sign up online.
By combining humor with a factual "how to" instructional approach, Web-Site-Building-Tips.com provides the help that supports those who consider themselves technologically challenged to succeed in creating an engaging, informative website. Web-Site-Building-Tips.com has set the standard for its innovative approach to teaching the fundamentals of website building and creating a profitable online ebusiness.
###