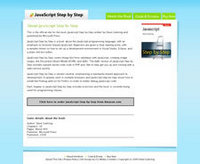 Stevens Point, WI (PRWEB) September 11, 2009
Three web site designs created by ICG Media, LLC have been selected as 2009 American Web Design Award winners. The award winners were announced by Graphic Design USA as part of the American Graphic Design Awards, sponsored by NewPage.
The sites range in scope from local to international. Among ICG Media's winning website designs is a local hair salon (http://www.AllureDowntown.com), a regional nutrition consultant (http://www.PointNutrition.com) and a site for a book published by Microsoft Press (http://www.JavaScriptStepByStep.com).
The winning web designs showcase ICG Media's talent in the areas of web design and usability. Each of the sites features a commitment to implementing the customer's vision and message for the web. Key design elements common among the sites are the appropriate use of images and text with standards-based code practices. The award-winning sites also focus on ease of use, with clear and consistent navigation throughout.
One of the winning designs will be featured in the December 2009 issue of Graphic Design USA magazine.
About ICG Media: ICG Media, LLC is a Stevens Point, Wisconsin-based website design, SEO, and website hosting firm. Formed in 2004, ICG Media delivers affordable web sites, web application programming, search engine optimization, and web site hosting to a wide range of clients. In 2009, ICG Media began offering Google Adwords campaign management with our on-site Google Adwords Professional. ICG Media is a registered Microsoft Partner.
###