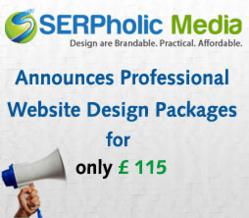 It's all down to our dedication for our core goal – and that is to make our clients dominate the sector of the web that they belong in. We'll do whatever it takes, and money will not be our main motivation for now but only trust and reputation
Haryana, India (PRWEB) January 08, 2012
One of rapidly growing and creative teams of website design and development experts has entered the website design industry in the New Year 2012 and announced the official launch of SERPholiC.co.uk
Combining decades of experience with modern-day unique business practices, the team have hit on a unique way to offer web development and design at prices that now don't exist in the industry. Their ultimate aim is to help their clients dominate the web with a matchless brand image that comes with an exclusive web design.
SERPHoliC Media has introduced its HTML website design packages at a price of just £115, with customers looking for Wordpress sites able to get them for as low as £145. Even though the company's prices are low enough to be classed as promotional, they are adamant that only the highest quality, SEO-friendly work will be delivered to clients offering them more than expected.
Sunita Biddu, Managing Director of SERPholiC, explains how their service will be operating:
"To make it a successful launch, customer service and the quality of our work is our prime concern. We won't give away our secret on how we manage to keep our prices so low, but it really is something the web design industry hasn't seen before" says Miss Biddu. Continuing, "We'll also be offering a range of services parallel to our website design, such as ecommerce website design and web application development at unexpected competitive pricing .
The SERPholiC team is reporting an outstanding response to designs already completed for clients, especially when the design packages are complemented with an extra SEO work done absolutely free of cost.
"It's all down to our dedication for our core goal – and that is to make our clients dominate the sector of the web that they belong in. We'll do whatever it takes, and money will not be our main motivation for now but only trust and reputation", says Sunita.
About SERPholiC Media
SERPholiC Media Pvt. Ltd is a 1-year-old rapidly growing web design and development agency based in Haryana, India.
Comprised of a team of almost 16 knowledgeable experts, the company has established itself a goal of changing the stereotype that "web development is expensive" and aim to deliver all of their work at the highest possible quality.
Contact Details:
Name : Sunita Biddu
Website: http://www.serpholic.co.uk/
Telephone: +91-124-4261423
E-mail: info(at)serpholic(dot)co(dot)uk
###