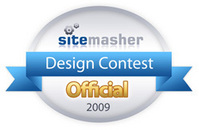 At Sitemasher, we foresee a day very soon when folks strive to prove themselves as 'mashers' - ones who have mastered our platform and are able to deliver sophisticated, pixel perfect websites in record time
Vancouver, BC (PRWEB) October 8, 2008
Sitemasher's newly released online website platform unleashes the design process from the complexities of coding. To encourage both students and professionals to experience this design freedom, Sitemasher today launched a free website design contest that rewards the best in design, usability, functionality and ease of maintenance.
The Sitemasher Website Design Contest, which runs through March 1, 2009, is a professional development opportunity for those looking to prove themselves in the fast evolving design market. Tools like Sitemasher change the rules for website building, making it fast, easy and inexpensive to develop and manage highly interactive websites. Participants in the contest will get an opportunity to showcase their skills by tapping into the power of this new platform, which combines an intuitive website builder, content management, analytics, search engine optimization and website hosting in one powerful online tool.
"At Sitemasher, we foresee a day very soon when folks strive to prove themselves as 'mashers' - ones who have mastered our platform and are able to deliver sophisticated, pixel perfect websites in record time," said Nicole Denil, Sitemasher's vice president of marketing. "Our goal is to give the design community the power and performance of high end, high cost tools but in an affordable, much more manageable manner. Our online platform automates the complexity of building and managing a website so the emphasis can be on delivering a killer website in less time and less cost."
Website Design Contest Details
Sitemasher created the Website Design Contest to recognize excellence among design students and design industry professionals in implementing powerful websites using Sitemasher.

Design students will receive a cash prize for education and an award they can use to grow their career and resume.
Design professionals will receive a cash prize and an award to promote their excellence in design and proficiency with Sitemasher.
To enter the free contest, participants simply visit http://www.sitemasher.com/website-design-contest.
Websites will be judged by a panel of experts and will be scored on the following:
•Design: Judged based on overall visual concept, an intuitive navigation scheme and a high quality of execution.
•Usability: Judged based on basic techniques such as label links and images that enhance usability throughout the design.
•Functionality: Judged based on the extent participates maximize multiple media types and promote user interactivity.
About Sitemasher
Established in 2007, Sitemasher provides a fully managed, hosted website solution that seamlessly integrates website building, content management, analytics and search engine optimization (SEO), all within a single platform. Phil Calvin, chief technical officer, began developing Sitemasher in 2006. Ron Moravek, chief executive officer, joined the new corporation in August 2007 along with Curtis Terry, chief financial officer and chief operating officer for Sitemasher, both from Electronic Arts, Canada. Eric Dorgelo, vice president of development, joined the team from Rockwell. Nicole Denil joined Sitemasher from Microsoft Corporation. Eric Carlson became the sole venture capitalist and partner in December 2007.
###