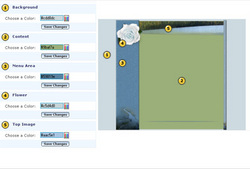 Virtually anyone who can surf the net can build and customize a great website on Myevent.com. People want to be able to make their own updates and avoid the expense and delay of a Webmaster. Moreover, myevent.com offers many features that webmasters cannot provide such as registration forms, accepting payment and much more
Montreal, QC (PRWEB) January 30, 2008
Myevent.com, the leading provider of "do it yourself" event websites on the Internet, has unveiled its innovative, patent pending "color by numbers" platform. The company is the first to allow users to select custom colors that can be applied to a vast array of design templates. The color customization is integrated with all aspects of a website template from CSS to graphics, and is available exclusively in conjunction with the Myevent.com website builder.
According to Myevent.com President Rob Hirscheimer "people who need a website for their wedding, class reunion or corporate event often request if custom colors are available with their design template. Brides need to be able to match their wedding colors, reunion committees want to compliment their high school colors and companies require a design that goes with their company logo".
The color by numbers platform is as easy to use as it sounds. The user selects colors from a menu, or creates their own colors to colorize specific sections of any given design template. According to Mark Goldenberg, executive Vice President, and lead developer on this project, the platform differs from all other systems because it doesn't simply swap out simple background graphics and colors. It actually has the ability to dynamically change the colors of graphics and the entire website template in real time. This functionality is best understood as a "paint by numbers" interface. Behind the scenes the system must carry out several complex tasks including, writing to files, writing to a database, and most impressively creating and colorizing images "on the fly".
In addition to being able to change colors of designs, users can also change fonts of their text, menu, page titles, and site title. The system gives the user an unprecedented level of customization and ease of use that was previously unavailable in any website builder.
The company has special features for high school reunions, family reunions, weddings, corporate events and any milestone event. Myevent.com also has a website builder for small business websites that is ideal for anyone that wants a professional looking website at an affordable price.
The key is still the ease of use according to Hirscheimer. "Virtually anyone who can surf the net can build and customize a great website on Myevent.com. People want to be able to make their own updates and avoid the expense and delay of a Webmaster. Moreover, myevent.com offers many features that webmasters cannot provide such as registration forms, accepting payment and much more".
Myevent.com also unveiled many new designs with themes specifically for class reunions, family reunions, military reunions, weddings, and all types of businesses. These website templates are available exclusively with the Myevent.com website builder. Website packages start as low as $9.95 a month and the company has a free trial, so people can try it free for 7 days.
About Myevent.com: Myevent.com is the leading provider of event websites on the Internet.
A website is the best way to communicate all the vital event details, collect information and entertain guests that will be attending class reunions, family reunions, weddings, or any event.
Myevent.com members can create professional looking websites (with no technical skills whatsoever) that have special features to help plan and organize any event. The website acts as a communications hub where everyone can view details of events, maps, hotel information, and much more. The website tools allow the organizer to manage guest lists, send
broadcast emails, accept registrations, and sell tickets (by credit card) right on their website. There are also fun features such as photo albums, quizzes, polls, a guest book, music, video, and easy to use content management tools.
###