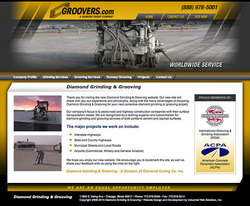 Working with IWS has been a pleasurable experience and our new web presence is yielding positive results already. I'm looking forward to further developing our online business with them
Charlotte, NC (Vocus) December 21, 2010
Industrial Web Solutions, the industrial marketing arm of global marketing firm AIMG, recently completed and launched the new website design for Groovers.com, a division of The Diamond Group of Companies. The Groovers.com website represents the third website designed by Industrial Web Solutions for the Diamond Coring Co., Inc., and focuses exclusively on the company's corrective services offered to airport, road and highway construction companies with surface transportation grinding and grooving needs.
"Working with IWS has been a pleasurable experience and our new web presence is yielding positive results already. I'm looking forward to further developing our online business with them," said Tony Cappello, president and Owner of Diamond Coring, Inc.
The Diamond Group of Companies has a number of divisions representing the various corrective and maintenance services it offers, like sweeping, cleaning, and diamond grinding and grooving for roads, runways, bridges, and walkways. Each one of the three websites designed by Industrial Web Solutions, which include Diamondcoring.com, the principle corporate website, Diamondsweeping.com, which focuses on municipal and commercial sweeping services, and the latest Groovers.com, speaks directly to the needs of the targeted audience that are fulfilled by the services offered.
"This 'divide and conquer' approach," said Joe DeMicco, President & Owner of Industrial Web Solutions, "allows the client to develop marketing initiatives that target specific audience groups relevant to the services offered. It also ensures that website content remains highly focused, enhancing overall effectiveness in the search engines and supporting conversion goals."
About Industrial Web Solutions
Industrial Web Solutions is an American marketing and development firm specializing in online and technology solutions for the industrial marketplace. To accommodate the specific needs of small to medium sized companies, owner Joe DeMicco established the company as the industrial partner to his marketing firm AIMG | Accurate Imaging. Since launching in 2007, the company has developed customizable applications for its proprietary website content management system, website modules, lead management system, document management system, online product catalog, ecommerce website, and the recently launched Industrial Web Search, an industrial search engine built using new patent-pending technology.
About Joe DeMicco
Joe DeMicco has been an online and marketing consultant for almost 20 years. He started his flagship company AIMG | Accurate Imaging in 1994. He has worked as a consultant and produced content for companies like BMW, Discovery Communications, Publicis, IDT, Robotic Industries Association, Automated Imaging Association, Hose-McCann Communications, and Excite Media Group. In 2007 he established Industrial Web Solutions, which specializes in online and offline solutions for industrial manufacturers. Joe, along with his team at Industrial Web Solutions, developed Industrial Web Search, an industrial search engine built on new patent-pending technology. His blog DeMicco.com offers business development tips.
About Diamond Grinding and Grooving
Diamond Grinding & Grooving is the surface transportation diamond and grinding services division of Diamond Coring Co., Inc.
###