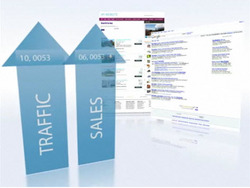 Dubai, UAE (PRWEB) September 12, 2009
Wisdom provides Domain registration, Hosting, Web Design and Development to our clients in Dubai, UAE. Now with addition of Internet Marketing services Wisdom is able to give clients high class web design and development experience from start to finish.
Marketing brand and Business identity over the web is the most important goal of any website. A dynamite website with great information architecture, brilliantly intuitive usability and glorious graphics is only a good tool if it can attract enough traffic to achieve an efficient return on investment. But…
Are you really using your website to achieve your business objectives?
How can you capture the interest of those people who are searching for your products and services that you aren't currently getting?
How do you connect with the people who are researching your competition right now?
Internet Marketing is answer to these questions.
Wisdom IT Solutions is already providing world class services of Domain registration, Hosting, Web Design and Development to our clients in Dubai, UAE. Now with addition of Internet Marketing services that include Search engine Optimization (SEO), Email Marketing, Social networking, copy writing, etc, Wisdom IT Solutions is able to give its clients a high class web design and development experience from start to finish. We have added this service to help clients register, host, develop and promote their website under one roof saving time and money." says Mr. Khuram Iqbal, CEO Wisdom IT Solutions LLC.
Mr.Iqbal explains how Wisdom Web Designing End-to-End services work--"When developing a website a Client can now register a domain name, choosing from all popular extensions, select a web hosting package that best fits his requirements, get a custom tailored web design, and advertising to promote his brand and services. The new service adds a great package to our services and products catalogue, designed to offer greater versatility to our web design and development process. The benefit of the promotion is to drive more traffic to the website and increase sales, saving your business time and money."
He added that, "Our Web Designing services include many steps. Creating rich content to keep visitor interested in your products or services, user friendly navigation around your website and online promotions to keep your website with unique visitors. As more and more people become familiar with the Internet, it is becoming increasingly important to have a web presence for your business or company. We identify our client's needs and also will develop unique and useful applications that the visitors of their website will love to use. And now, we also take care of website promotion which is the toughest part of web development. Our existing clients who are already enjoying our high class web design and development services, as well new clients will definitely benefit from our Internet Marketing Services."
Wisdom IT Solutions LLC's recent Internet marketing service together with Web Design and Web Development seems to be very effective and promising; their commitment to develop new strategies is satisfying to clients in Dubai and Abu Dhabi, UAE.
Wisdom is the only Company in Dubai, UAE, which provides money back guarantee on its search engine optimization services. Either you get Top-10 Ranking on Google for specified Keywords in specified time, or they will give your money back. Wisdom has a SEO team of expert consultants and analysts who can give clients best advice to promote their business globally and locally both through search engine optimization by market research, analysis, and monitoring competitors. Their advanced search engine optimization skills and the tools adopted by our SEO technicians; enable its clients to generate new business, at affordable cost.
Their SEO services include:
SEO Copy writing
Conversion Optimization
Keyword Research
Title Tag Optimization
Image and Hyperlink Optimization
Content Optimization
Sitemap Creation
URL Optimization
Pay Per Click Campaigns
Source Code Optimization
Keyword Analysis
Off Page Optimization and Links Management
About Wisdom IT Solutions LLC:
Wisdom IT Solutions LLC based in Dubai, UAE since 2006, specializes in all aspects of web design and development. Whether you need a website created using your existing logo and design scheme or need a new site created from the ground up, Wisdom has a team of talented artists and web designers that will be able to help you to get the exact website that you want. They use everything from HTML and CSS to Flash and other advanced web technologies, this make sure that your website or online store is made to your exact specifications and will keep it up to date with your business or interests no matter what changes are needed. Wisdom IT Solutions LLC focuses on branding and development solutions through E-Marketing that will ensure your business the highest level.
"We are proud to introduce a web design and web development promotion service that allows your business to design, develop, and promote it's website with one package, under one roof."
Make Sure to see Wisdom IT Solutions' Blog http://www.wisdomtalks.com for Free Tips and Tricks to achieve Top-10 Google Ranking.
###