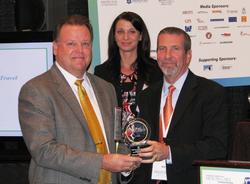 Best Website for International Medical Travel
Bangkok, Thailand (PRWEB) February 24, 2009
Bumrungrad International won 1st Place as "Best Website for International Medical Travel" at the 2008 Consumer Health World Awards event in the US capitol.
Bumrungrad.com is a hospital website serving international audiences, Thais, and expatriates. The Award organizers said the site "makes it easy for prospective patients to find the information they are interested in, provide an efficient way to make inquiries and request appointments, and provide information to help international medical travelers understand how to get care at Bumrungrad."
JWT Connect, Bangkok, helped the hospital redesign its home page, focusing on audience segmentation and content architecture, earlier this year.
The award adds to a list of honors achieved by Bumrungrad in 2008, including "Thailand's Most Innovative Company" by Chulalongkorn University's School of Business; top medical tourism destination (Tourism Authority of Thailand); top Thai company for quality of products and services (Asian Wall Street Journal); and excellence in information technology (Assoc. of Medical Directors of Information Systems).
About Bumrungrad International
Bumrungrad International, is Southeast Asia's premier private hospital and a regional referral center for advanced care, offering 554 beds, 30 specialty centers, 940 medical specialists and over 800 nurses. It is Asia's first JCI accredited hospital and serves more than one million patients yearly from 190 different countries.
###