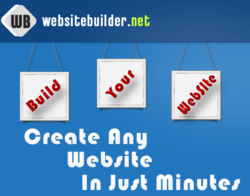 (PRWEB) November 29, 2012
Websitebuilder.net was created to help people and businesses choose website builders that best suit their individual requirements, avoiding the need and costs of hiring designers to do the site building for them. Everyone's needs are different, and what suits one person does not necessarily suit another but, in a world dominated by the Web, they all need websites that showcase their wares in the best possible way to the widest possible local and international audience.
Choosing a website builder, especially for those with little experience, can be challenging, so a website that has in-depth reviews of the website builders available, along with expert guidance, makes the task a lot easier.
The team members at Websitebuilder.net have reviewed and tested many website builders; in doing so, they have not only found the best - with each review, they have increased their pool of experience and expertise, so the information found on the site is detailed and reliable. They have ranked the website builders that they have tested according to stringent criteria, and visitors will find reviews of their top five, along with many others, on the website. All the reviews highlight the best and worst of each one, so visitors can be confident that what they are reading is informative and instructive.
Websitebuilder.net was created because the head of the team needed to build his own website, but did not want to go to the expense of hiring a designer to do it for him. Looking for a website maker that suited his needs was not easy, but his research illustrated that there was not a lot of guidance available for others in the same situation. As he says 'That's why, after I created my first site using my chosen builder, I decided to build another site that will save others like me the trouble of searching for the best website builder. So, I reviewed them all, added written instructions for each, and added extra tips."
Creating a website should be a simple task but, as the number of website creators grows, so it becomes more difficult to find the right one. Websitebuilder.net exists to eliminate the difficulty and make that final choice as easy as possible.