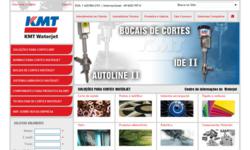 The other value of the Auctori CMS is that we have eight foreign languages all benefiting from this CMS globally," said Bob Pedrazas, KMT Waterjet Marketing Manager.
St. Louis, Missouri (Vocus/PRWEB) March 31, 2011
KMT Waterjet Systems announces the recent launch of their Brazilian website, http://www.kmtcorte.com/. The KMT Brazil website is one of 13 websites developed by The Net Impact, a St. Louis based Internet marketing and web design firm. The Net Impact developed and designed KMT's website using Auctori, a global content management system (CMS) that aids search engine optimization (SEO).
"We are receiving incredible inquiries based on unique keyword phrases that are being typed in by potential prospects. Within the first two years since working with The Net Impact, there have been over 32,000 keyword phrases that have found our KMT websites. That's beyond our expectations. The other value of the Auctori CMS is that we have eight foreign languages all benefiting from this CMS globally," said Bob Pedrazas, KMT Waterjet Marketing Manager.
KMT continuously adds new websites in new countries each year for the KMT Waterjet brand. So it is imperative that KMT sites include country specific URLS and foreign language versions of their United States site. The global CMS, a partner product of The Net Impact, is configured to support KMT's international entities. Auctori seamlessly supports individual administrators in various countries as KMT Waterjet maintains and enhances their global brand using a variety of diverse, internationally targeted native language sites.
"We are thrilled to add another successful website to the KMT family. Auctori is fully equipped to support the international online needs of KMT as well as our other global clients, and KMT's websites are a working example of Auctori's ever-evolving capabilities. As new advances to our CMS continue to provide a single integrated global web marketing solution, we look forward to continuing our work with KMT to make their business more profitable and efficient," said Steve Thomas, President of The Net Impact.
In addition to providing content management and web development services, The Net Impact also search engine optimized KMT's website and created a custom design for the company's website and blog.
About The Net Impact®
The Net Impact®, an Internet marketing and web development and design firm, is a division of Unidev®. Since 1997, The Net Impact® has been a web development leader, empowering clients with highly creative search engine friendly websites. Professional services encompass search engine and Internet marketing solutions, Internet strategy development, training and seminars and web design. For more information on The Net Impact®, please visit thenetimpact.com, or call (636) -787-7800.
About KMT Waterjet Systems
KMT Waterjet Systems is the leading global manufacturer of waterjet cutting systems, Ultra High Pressure pumps and components for water jet systems. KMT's product offerings include: UHP Pumps, Waterjet cutting nozzles, Focusing Tubes, Pneumatic Cutting Valves, Intensifier and High pressure parts, Abrasive Cutting Systems, Waterjet Spare Parts, High pressure Valves, Fittings and Tubing Products, Diamond Orifices, Sapphire Orifices, Ruby Orifices, and Robotic applications. KMT Waterjet Systems are used in a wide variety of industries including automotive, military, aerospace, tile, stone, food, textiles, rubber, foam, glass and much more. For more information contact KMT Waterjet Systems at: 800-826-9274, or visit kmtwaterjet.com.
# # #