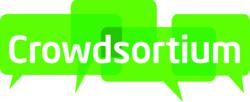 "We are very excited to unveil our new and enhanced website. The improved ability to search and learn about our members makes for a much more interactive visitor experience." - Crowdsortium Director, Brittany Lincoln
Boulder, Colo. (PRWEB) November 26, 2012
Crowdsortium, the industry group for crowdsourcing companies, academics, VC's, and customers launches a new website today. Visitors to the website will find a better user experience and increased ability to search and explore member profiles.
Functionality of the site will increase by placing greater focus on searching and discovering members. The redesign is meant to showcase members, their expertise, and the subcategory of crowdsourcing which they focus on. Visit Crowdsortium.org to explore the new site.
"We are very excited to unveil our new and enhanced website," said Crowdsortium Director, Brittany Lincoln, "the improved ability to search and learn about our members makes for a much more interactive visitor experience. Our aim is to focus on who are members are and where they fit in the crowdsourcing landscape."
Enhancements on the websites redesign include:

Search function for membership directory
Classification of members by type of work
Updated layout of Member Directory, with greater emphasis on members biography's and experiences
Updated design of Membership page and member benefits. The Membership page now provides a streamlined way to sign up for membership
Increased access to resources for visitors and members
The changes on the website offer a more efficient way to interact with members and their companies. The redesigned website showcases the members and provides more information on who they are and what they do.
The website redesign was done by Brendan Miller, founder of Digiguin. Digiguin specializes in graphic design, UI/UX, illustrations, animation, front end design, and conference design. All work was tailored to the needs of Crowdsortium and great attention to detail was giving to all aspects of the redesign.
Visit Crowdsortium.org for a first-hand view of the website update.
About Crowdsortium
Crowdsortium is a group of crowdsourcing industry practitioners that have self- organized to advance the crowdsourcing industry through best practices, education, data collection and public dialog. Founded in 2010, Crowdsortium currently has 150 companies, with approximately 250 members consisting of practitioners, academics, funders, and customers. Crowdsortium is a non-profit organization and is fully funded by members. Premium Corporate Members of Crowdsortium are Trada, CrowdFlower, Cooley LLP, Tipalti, and CrowdComputing Systems. For more information, visit crowdsortium.org.