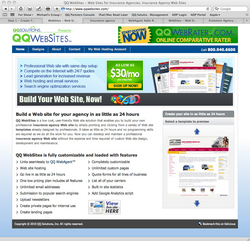 With QQ WebSites, agents build a site with a simple point-and-click interface. It takes only minutes to build a site and it can be live in as little as 24 hours.
Deerfield Beach, FL (PRWEB) June 23, 2010
QQ Solutions, Inc., a leading provider of software and Web-based technology solutions for the insurance industry today announced QQ WebSites, a new service that makes building, hosting and maintaining a professional insurance agency Web site easy and cost effective. Through the company's partnership with InformINS, QQ WebSites is designed for the independent insurance agent who needs a Web site but does not have experience in Web design. It empowers agents with the ability to launch a Web site in as little as 24 hours and eliminates the costs and time required for custom design, hosting and maintenance.
QQ WebSites makes Web design easy for agents by simply pointing and clicking from a variety of Web site templates already designed for the insurance industry. It's fully customizable and loaded with features. Agents can choose from more than 40 template designs with the ability to change the design anytime at no additional cost. Submission of the Web site to popular search engines, such as Google, Yahoo and Bing help agencies compete in today's competitive marketplace. And, by leveraging the Internet as an effective communication medium, QQ WebSites offers agents the ability to conduct business 24/7. Additionally, for agencies in Florida and coming soon to agencies in Texas, QQ WebSites can integrate the new QQ WebAgent consumer portal that provides live comparative auto insurance quoting and lead management.
"We selected InformINS as our partner because their robust Web site builder technology has been proven to be successful with more than 1,000 agents using the service to date," said Michael Stebel, Chief Operating Officer of QQ Solutions. "Now, through QQ Solutions, agents nationwide have a one-stop shop for their agency management automation and Web site needs. With QQ WebSites, agents build a site with a simple point-and-click interface. It takes only minutes to build a site and it can be live in as little as 24 hours. Now even the smallest insurance agency can have a professional Web site with no worries."
With QQ WebSites, agents can:

Launch a professional insurance agency Web site in as little as 24 hours with little or no experience
Access Web site administration for changes and/or updates 24/7
Provide quote forms for all lines of business
Integrate QQ Solutions' QQ WebAgent for live auto insurance quotes (Currently in Florida. Texas coming soon.)
Upload logos, pictures and agency newsletters
Access more than twenty insurance & financial calculators
Own the Web site domain
Link to third-party rating companies, and much more
"We look forward to a prosperous, lasting relationship with QQ Solutions, as InformINS sees great synergy in bringing together QQ's dynamic marketing network with InformINS' market-tested Web site system," explained Yuri Vanetik, Vice Chairman of InformINS. According to Vanetik, "the new partnership with QQ Solutions will provide independent insurance agents with perhaps the most user-friendly marketing tool in the industry."
QQ WebSites is available immediately at http://www.QQWebSites.com.
About QQ Solutions, Inc.:
QQ Solutions is a full-service technology and data services company that is committed to providing the Insurance Industry with easy-to-use, feature-rich solutions that enhance productivity, reduce operating expenses, help eliminate paperwork, increase revenues and provide the best value for insurance agencies nationwide. The company strives to delight its customers by exceeding their expectations in product quality, customer service, training & support, and by meeting their evolving needs through a program of continuous product development and improvement incorporating the best available technologies.
QQ Solutions' headquarters is located in Deerfield Beach, Florida, where the company employs 65 people in software development and testing, product management, product support, training, marketing, sales, IT and administration.
To learn more about QQ Solutions products, please call the company at 1.800.940.6600 or visit the QQ Solutions Web site at: http://www.QQSolutions.com.
About InformINS, Inc.:
Organized in 1999 as a strategic insurance software firm, servicing managing general agencies, mid-market carriers and independent producers/agents, InformINS enables its clients to conduct typical industry transactions faster, easier and at a significant cost savings. InformINS is based in Fullerton, California.
InformINS, Inc. - evolving the Insurance Industry. For further information contact the company at 1.714.441.1692 or visit their Web site at: http://www.informins.com.
Contact:
Andrea Boyle, Director, Product Management
QQ Solutions, Inc.
1.800.940.6600
http://www.QQSolutions.com
###