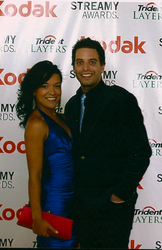 "New Media has evolved so rapidly since Satacracy 88," says Diahnna Baxter, "I am honored to be a part of this emerging space by cultivating the next generation of WebTV creatives through WebTV Workshop."
Hollywood, CA (PRWEB) April 15, 2010
On May 3, 2010 Diahnna Nicole Baxter (Emmy Award-Winner – Outstanding Broadband – Drama) and Damian Pellicionne (Stella Entertainment, New Media Vault) will launch WebTV Workshop (WTVW), Hollywood's first professional school dedicated to web content and new media. It is the first of its kind to take students from "idea-to-audience" in creating their own web series. The two have partnered with Michael Roth and Justin Wicker from MJR Films at Sneak Preview Entertainment (500 Days of Summer, Our Family Wedding) in Hollywood where the school will be located.
The mission of WTVW is to empower each student with the knowledge and tools needed to create an impactful presence on the web by producing and managing their own content in the ever-evolving world of New Media. "New Media has evolved so rapidly since Satacracy 88," says Diahnna Baxter, "I am honored to be a part of this emerging space by cultivating the next generation of WebTV creatives through WebTV Workshop." Damian Pelliccione adds, "The most empowering part of the WebTV space is the ability to have an authentic voice and to build a community around that voice without the red tape of Hollywood, WTVW provides all the tools needed to be successful in this space for the professional and the aspiring artist."
WTVW will offer its "Crash Course" beginning Monday, May 3. The course is six classes over four weeks where students will learn about writing for the web, pre-production, digital casting, budgeting, self-distribution, branding, monetization, social media marketing, advertising, contracts, and more. Break out sessions will also be available for the student seeking in-depth information on all of these topics. In addition students will have the unique opportunity to meet a panel of industry professionals every week including representatives from major entertainment unions such as SAG, AFTRA, WGA, and the PGA.
About WTVW: WebTV Workshop is the first professional school in Hollywood geared towards producing web series and new media content. Diahnna Nicole Baxter co-created, co- wrote and starred in the first series to ever win an Emmy Award for the web, SATACRACY 88. She was nominated again in 2008 and brings the knowledge of making revolutionary content on a shoestring budget. Mr. Pelliccione is the head of Stella Entertainment and has starred, produced and cast over fifteen successful Internet productions. The dynamic powerhouse of Baxter and Pelliccione are sure to pioneer the next generation of web TV creatives.
# # #