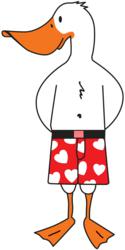 Many of our customers will buy our Disney, Superhero or Halloween-themed pajamas, boxers or sleep pants and use them as costumes.
(PRWEB) October 05, 2011
Loungewear that can be easy children's Halloween costumes and festive outfits for a party or parade are among the new products now in stock at WebUndies.com. As the premier online retailer of licensed character and novelty boxer shorts, underwear and sleep wear, WebUndies.com offers dozens of products perfect for partying, trick or treating, or just hanging out to watch scary movies.
"Many of our customers will buy our Disney, Superhero or Halloween-themed pajamas, boxers or lounge pants and use them as costumes," says Deborah Palacio, WebUndies.com managing partner. "Not only do they get a great costume, they save money. Unlike expensive Halloween costumes – which get stored away in the closet – our loungewear can be worn again and again after the holiday."
Palacio also notes that Halloween shoppers can also save an extra 10% off when they "like" WebUndies on Facebook at http://www.Facebook.com/fununderwear.
Palacio adds, "Browse the WebUndies.com website and let your imagination run wild. You'll find great costume ideas." Some of the possibilities:
Rock Star – Wear WebUndies' rocker faux leather lounge pants with a black t-shirt and anyone will have the moves like Jagger for sure.
All American Handyman – Channel Mike Holmes in these fun handyman sleep pants, which feature a realistic looking tool belt. Add a rugged t-shirt, work boots and gloves and be the next All American Handyman.
Batman – What little boy doesn't like to pretend he's the Caped Crusader? These Batman pajamas have a realistic looking utility belt and detachable cape.
Disney Princess – Little girls and princesses are the perfect Halloween mix. Choose from nightgowns featuring Cinderella, Sleeping Beauty and Belle, or pajama sets with Ariel or Rapunzel, then add a tiara and everty girl will be the prettiest princess at the school Halloween party.
Ghost Busters – Got an older teen who is too cool to trick or treat but still wants to be part of the fun? Outfit him in these Ghost Busters lounge pants and let him hand out candy at the front door to all the little trick or treaters.
WebUndies also has a selection of Cars 2, Smurfs and Superhero items in stock for children and many Superhero, South Park, and Halloween-themed products for men. Women and teen girls can choose from SpongeBob, South Park, Hello Kitty and more.
About WebUndies.com
WebUndies.com went online in 1999 as a specialty retailer focusing on licensed novelty boxer shorts with about 15 designs. Today, WebUndies offers a more varied product mix than what the "big box" stores carry, with well over 2,000 styles in stock. The company stocks sleep pants, robes and t-shirts for men; boxer shorts, lounge pants and pajamas for children; and panties, thongs and loungewear for women.
Customers who want advanced notice of new products and sales can sign up to receive the free WebUndies.com newsletter http://visitor.constantcontact.com/manage/optin?v=001Ns2TWA-HianobnGMit6IqfppNryE9cXQ.
WebUndies.com has been featured on CNN Headline News, MSNBC.com, and The Howard Stern Show; as well as Playboy magazine, Cosmopolitan Magazine, Maxim Magazine, US Weekly, Star, Rolling Stone, Men's Journal, and many other regional and international publications. The company gets frequent mentions in blogs for unique and affordable products.
The company also offers affordable custom printing services for customers who are running fundraisers or events. WebUndies.com can imprint boxers, lounge pants, blankets, hospital scrubs and more. Bulk pricing is available for orders of 36 units or more. This option is very popular for Boxer Bingo events held as part of high school "Project Graduation".
###