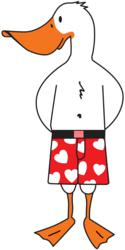 WebUndies.com offers hundreds of gifts under $35 and free shipping on orders over $75.
Cranford, NJ (PRWEB) November 23, 2011
Just in time for the holidays, WebUndies.com - http://www.WebUndies.com - an Internet retailer of licensed character and novelty boxer shorts, underwear, t-shirts and pajamas, has received new loungewear shipments for everyone on a holiday shopper's list. The company is also offering free shipping on orders of $75 and up, free shipping to military addresses, and an extended return and exchange policy for the holidays.
WebUndies.com stocks over 2,000 styles for men, women and children including popular product lines such as the Simpsons, Superman, Batman, Hello Kitty, SpongeBob Squarepants, Snoopy and Peanuts, and other fun characters.
Tip #1 Give fun gifts for under $35
"This year, WebUndies has hundreds of fun and novel holiday gifts in stock," says Deborah Palacio, WebUndies.com managing partner. "I encourage customers to stop by our site often, because we're posting more new products at great prices every day throughout the holiday season."
Palacio offers these gift ideas for under $35:
New footie loungepants for men. Why should women have all the footie fun? WebUndies has fleece footie sleep pants for guys that feature the Pillsbury Doughboy, Elmo, and Cookie Monster. All priced at $25.00.
Video game loungepants. It doesn't get much better than spending the day playing Angry Birds in your pajamas – unless you're wearing Angry Birds loungepants. WebUndies also stocks Call of Duty, Xbox, Mario, Guitar Hero, Pac-Man, and many more. Check out all the great video game loungepants choices. All are priced $20 and under.
Holiday fun boxers. We all need a good laugh these days. Why not give the guy on your list a chuckle or two with A Christmas Story, SpongeBob, Grinch or Family Guy boxers? Check out all the WebUndies' holiday boxers for more great choices, most priced $13.50 or less.
Warm footie pajamas. What woman doesn't love cozy footie pjs on those snowy winter nights? WebUndies has loads of one-piece fleece footies in stock and the under $35 selection includes Snoopy, Dr. Seuss, Angry Birds, Minnie and Mickey, and SpongeBob pajamas.
Stocking stuffers. Underwear makes a great stocking stuffer for everyone! Choose from Calvin Klein underwear and tees for boys and girls ($8-$14), Hello Kitty undies for women ($5.50-$19.00) and Superheroes boxers and briefs for men ($8.00-$15.50). You can also shop the WebUndies Sale pages for more fun stocking stuffers at great savings.
Tip #2 Shop with the holiday shipping schedule in mind
Palacio cautions, "Don't wait too long to place your holiday order. WebUndies, like many retailers, needs to receive orders by noon EST December 19 to ship via UPS 2nd Day Air in time for arrival by the first day of Hanukkah, and by noon EST on December 21 to ship via UPS 2nd Day Air in time for Christmas Eve arrival."
Palacio notes that WebUndies.com is also offering an extended holiday return and exchange policy. For the detailed shipping schedule and extended holiday return policy, check the WebUndies.com Shipping page.
About WebUndies.com
WebUndies.com went online in 1999 as a specialty retailer focusing on licensed novelty boxer shorts with about 15 designs. Since then the company's product offerings have expanded and now exceed 2,000 styles. WebUndies.com also stocks lounge pants, robes and t-shirts for men; boxer shorts, lounge pants and pajamas for children; and panties, pajamas and lounge pants for women. The company's website is WebUndies.com and advance notice of new products and specials is available on Twitter @webundies and on Facebook at http://www.facebook.com/fununderwear.
WebUndies.com has been featured on CNN Headline News, MSNBC.com, and The Howard Stern Show; as well as Playboy magazine, Cosmopolitan Magazine, Maxim Magazine, US Weekly, Star, Rolling Stone, Men's Journal, and many other regional and international publications. The company also gets frequent mentions in blogs for unique and affordable products.
The company also offers affordable custom printing services for customers who are running fundraisers or events. WebUndies.com can imprint boxers, lounge pants, blankets, hospital scrubs and more. Bulk pricing is available for orders of 36 units or more. This option is very popular for Boxer Bingo events held as part of high school "Project Graduation".
# # #