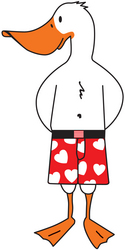 WebUndies.com provided an exceptional shopping experience for customers on Amazon.com. Its customer satisfaction ratings were A+.
Cranford, NJ (PRWEB) March 14, 2011
WebUndies, (http://www.WebUndies.com) a leading online retailer of licensed character and novelty boxer shorts, underwear, t-shirts and sleepwear, was recognized by Amazon.com for its outstanding sales performance during the 2010 holiday season. The company's sales ranked it among the top 25% of all Amazon sellers. This is the second year in a row that WebUndies received such recognition.
According to the commendation, WebUndies "provided an exceptional shopping experience for customers on Amazon.com." In addition, its customer satisfaction metrics were excellent, receiving an A+ rating, over the same time period.
The family-owned retailer stocks almost 2,000 styles, including fun boxers, briefs, boxer briefs, lounge pants, and t-shirts for men; pajama sets, sleep pants, capris, tees and panties for women; and pajamas and underwear for children. WebUndies also carries a large selection of big and tall boxers and plus size items. Inventory includes popular lines such as the Family Guy, Superheroes, Betty Boop, Hello Kitty, Disney characters, and the Peanuts Gang.
About WebUndies.com
WebUndies.com went online in 1999 as a specialty retailer focusing on licensed novelty boxer shorts with about 15 designs. Since then the company's product offerings have expanded and now exceed 2,000 styles. WebUndies.com also stocks sleep pants, robes and t-shirts for men; boxer shorts, lounge pants and pajamas for children; and panties, thongs and loungewear for women. The company offers advance notice of new products and specials on Twitter @Webundies and on its Facebook page at http://www.facebook.com/fununderwear.
WebUndies.com has been featured on CNN Headline News, MSNBC.com, and The Howard Stern Show; as well as Playboy magazine, Cosmopolitan Magazine, Maxim Magazine, US Weekly, Star, Rolling Stone, Men's Journal, and many other regional and international publications. The company gets frequent mentions in blogs for unique and affordable products.
The company offers affordable custom printing services for customers who are running fundraisers or events. WebUndies.com can imprint boxers, lounge pants, blankets, hospital scrubs and more. Bulk pricing is available for orders of 36 units or more. This option is very popular for Boxer Bingo events held as part of high school "Project Graduation".
###