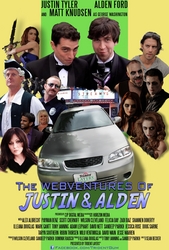 New York, N.Y (PRWEB) April 27, 2010
CJP Digital Media, a unit of NY-based marketing communications firm, CJP Communications today announced the premiere of its latest comedy web series: "The Webventures of Justin & Alden," presented by Trident Layers® sugar-free gum. Beginning today, the series may be seen on the official Trident® Facebook page (http://www.facebook.com/tridentgum), YouTube (http://www.youtube.com/TheTridentTV), My Damn Channel (http://www.mydamnchannel.com/justinandalden), Atom.com (http://community.atom.com/justinandalden) and across online, mobile and VOD platforms.
Produced in association with Horizon Media, the largest independent media services agency in America, "Webventures" marks the inaugural branded digital entertainment program for Cadbury North America, maker of the Trident® family of sugar-free gums.
Produced by Wilson Cleveland, Sandeep Parikh, Dominik Rausch and Illeana Douglas; directed by Sean Becker, the Emmy® and Streamy®-winning director of "The Guild"; and written by Parikh and Tony Janning, the award-winning creators of Atom's mega-hit Web comedy, "The Legend of Neil," "The Webventures of Justin and Alden" stars UCB regulars Justin Tyler and Alden Ford as struggling actors who decide their path to fame lies in making "the greatest web series web show that's ever been on the web computer," so they set out on an epic road trip across Los Angeles to crash the Streamy Awards and convince Felicia Day ("Dr. Horrible's Sing-Along Blog") to be their leading lady.
"'The Webventures of Justin and Alden' represents an exciting and creative evolution in how we're providing new experiences for our consumers across a variety of platforms," said Becky McAninch, senior marketing manager for Trident. "This unique online entertainment experience was created with our gum-chewing consumers in mind and we think they will enjoy it."
"We're excited to have Trident Layers on board with the sponsorship of this hilarious and quirky new series," said Molly Sugarman, Creative Media Director at Horizon.
Following in the tradition of classic 'buddy road trip comedies' like "Bill & Ted's Excellent Adventure" and "The Cannonball Run," Justin and Alden take a brief trip through time itself where they meet George Washington (played by "The Legend of Neil's" Matt Knudsen) and encounter a series of bizarre characters played in cameo roles by some of web and broadcast TV's most popular stars including: Alex Albrecht ("Diggnation"), Wilson Cleveland ("The Temp Life"), Felicia Day ("The Guild"), Zadi Diaz ("Epic Fu"), Shannen Doherty ("Charmed"), Illeana Douglas ("Easy to Assemble"), Mark Gantt ("The Bannen Way"), Tony Janning ("The Legend of Neil"), Phil Lamarr ("Family Guy"), Adam Leiphart ("The Fall of Kaden"), Sandeep Parikh ("The Guild"), Jessica Rose ("lonelygirl15"), Douglas Sarine ("Ask a Ninja"), Randy Sklar ("Back on Topps"), Taryn Southern ("Woke Up Dead"), Robin Thorsen ("The Guild"), Milo Ventimiglia ("Heroes"), David Wain ("Wainy Days") and Jesse Warren ("The Bannen Way").
Beginning today, "The Webventures of Justin and Alden" will be available online at My Damn Channel, Atom.com, Facebook, YouTube, iTunes, Break.com, Funny or Die, DailyMotion, MySpace and Yahoo Video; as well as Boxee and Roku set-top boxes, with dedicated iPhone and Android mobile applications launching the week of May 4th.
About CJP Digital Media
CJP Digital Media, unit of NY-based marketing communications firm, CJP Communications, specializes in creating, distributing and promoting brand-centric entertainment, content and marketing messages via digital, social, mobile and traditional media channels for brands and media companies including IKEA, BMW, GE, NBC/Universal, Spherion, MINI, Generate and My Damn Channel. CJP created the long-running Streamy-nominated Web comedy: The Temp Life in 2006 for SFN Group (formerly Spherion Corporation) and most-recently worked with IKEA and creator/writer Illeana Douglas to market and distribute the branded Web comedy Easy to Assemble, which Advertising Age recently proclaimed "the most watched branded Web show ever." For more information, visit http://www.cjpdigital.com.
About Horizon Media
Founded in 1989, Horizon Media, Inc. is the largest U.S. independent media services company. Horizon's core mission, "To create the most meaningful brand connections within the lives of people everywhere," is focused on helping clients sell products and build brands through insightful marketing counsel, and delivered through effective negotiation and placement, Horizon's holistic approach to brand marketing and development has resulted in estimated billings of $2 billion and established the company as the fastest growing agency in the industry. Headquartered in New York City with a full service office in Los Angeles, Horizon also has offices in San Diego, and Amsterdam, Netherlands. Horizon is also a founding member of Columbus Media International, a multi-national partnership of independent media agencies.
For more information, please visit the company's website at http://www.horizonmedia.com.
About the Trident Family of Sugar free Gums
Trident is available in eleven great-tasting flavors: Original Flavor, Bubble Gum, Spearmint, Tropical Twist, Watermelon Twist, Wild Blueberry Twist, Minty Sweet Twist, Passionberry Twist, Wintergreen, Strawberry Twist, and Cinnamon. Most flavors can be purchased in 18-piece packs and 54-piece multi-packs (three 18-piece packages).
Trident Xtra Care is a sugar free gum that rebuilds, protects and strengthens teeth. It contains Recaldent, a unique form of calcium derived from milk. Trident Xtra Care is available nationwide in four great tasting flavors, Peppermint, Spearmint, Cool Mint and Cool Citrus, and comes in single and multi-packs.
Trident White is a great-tasting gum that uses a proprietary technology to help whiten teeth and prevent stains. Trident White is available in eight flavors: Spearmint, Wintergreen, Peppermint, Cool Rush, Cinnamon Tingle, Cool Colada, Cool Bubble and Cool Mangoberry. Each flavor of Trident White is available in a 12-piece single pack and a 3-pack multi-pack.
Trident Splash delivers a satisfying chewing experience that entertains the mouth with a unique combination of textures with a liquid-filled center surrounded by soft, chewy gum and a sweet, crispy outer shell. Trident Splash is available in six great flavors, Peppermint Swirl, Strawberry with Lime, Apple with Raspberry, Summer Spearmint, Orange Swirl, and Citrus with Blackberry that can be found nationwide in a 9-piece single pack and 3-pack multi-pack.
Trident Strawberry fusion flavor, which includes six sweet and six sour strawberry flavored pieces in each pack, and Trident Green Apple fusion flavor, which includes six sweet and six sour apple flavored pieces in each pack, allow consumers to create their own unique taste combinations with every chew. Each flavor is available in a 12-piece single pack and a 3-pack multi-pack.
Trident Layers – a unique marriage of bold flavors and textures for an unparalleled, delicious new gum experience. Available in two distinguishing flavor options: Wild Strawberry + Tangy Citrus and Green Apple + Golden Pineapple, Trident Layers brings a whole new dimension to chewing sugar free gum with a uniquely formulated, visible soft center layer infused with real fruit flavor and a double taste sensation of luscious fruitiness that come together as you chew.
To learn more about the Trident family of sugar-free gums please visit http://www.tridentgum.com or contact the Cadbury consumer line at 800-524-2854.
About Kraft Foods
The combination of Kraft Foods and Cadbury creates a global powerhouse in snacks, confectionery and quick meals. With annual revenues of approximately $50 billion, the combined company is the world's second largest food company, making delicious products for billions of consumers in more than 160 countries. The combined company's portfolio includes 11 iconic brands with revenues exceeding $1 billion – Oreo, Nabisco and LU biscuits; Milka and Cadbury chocolates; Trident gum; Jacobs and Maxwell House coffees; Philadelphia cream cheeses; Kraft cheeses, dinners and dressings; and Oscar Mayer meats. Another 70+ brands generate annual revenues of more than $100 million. Kraft Foods (http://www.kraftfoodscompany.com; NYSE: KFT) is a member of the Dow Jones Industrial Average, Standard & Poor's 500, Dow Jones Sustainability Index and Ethibel Sustainability Index.
###