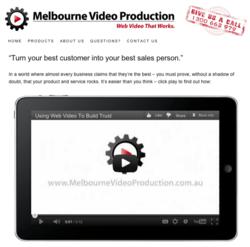 Melbourne, Victoria (PRWEB) December 03, 2012
Web video advertising spend has increased by 27% this year, as reported by marketing and advice website ClickZ last month. The growth is predicted to continue by a further 20% in 2013. Since the statistics were announced, a video production company in Melbourne is getting overwhelmed with new client queries. "I think this report has woken up those businesses who weren't sure about web video's effectiveness," says David Jenyns, web video expert and owner of Melbourne Video Production, "Because we've seen a marked increase in new client queries since the statistics were made public."
Over the past decade, the uptake for businesses to go online has been relatively swift, but fewer were as quick to enlist into the web video revolution.
However slow in their coming around to using online video, the eyes and ears of businesses were perked when ClickZ's report last month disclosed that spending for web video advertising increased a whopping 27% for 2012. What's more, is the prediction that growth will increase another 20% in 2013.
A video production company called Melbourne Video Production has felt the impact of this news, noticing a marked increase in new client queries for their custom web videos. "There were still many businesses out there that weren't convinced on online video's usefulness," says David Jenyns, Melbourne Video Production owner and expert in web videos, "So having clear stats showing online video's popularity has clearly made them think again."
At the start of December, the video production company noticed their new client inquiries had increased significantly since the marketing statistics were released.
"We didn't make the connection right away," David remarks, "But now we see that the influence of other companies spending their marketing dollars on online video advertising was what set off the influx of new client submissions."
David continues, "It's great to see so many businesses finally coming on board. I've been saying, for many years now, that web video is the way of the future."
Melbourne Video Production offers a variety of web video packages, including FAQ, testimonial, as well as custom web videos to a wide variety of businesses. "We can do everything from giving advice on how to do your own online advertising," says David, "to producing short clips or full-blown scripted productions."
David also says that the marketing statistics further back up the need for all small to medium businesses to join in by creating web videos of their own. "It's actually very easy and affordable. And with the growing trend for using online video as advertising, I'd even say it's necessary."
Melbourne Video Production offer a variety of pre-packaged web video services, as well as fully customized options, to cater for all variety of business types and budgets.
To learn more about Melbourne Video Production's services, visit: http://www.melbournevideoproduction.com.au/video-production-in-melbourne/custom-web-videos/
About Melbourne Video Production
Melbourne Video Production is a division of MelbourneSEOServices.com, a full service search engine optimization (SEO) consultancy, based in Australia, but with a worldwide client base.
Melbourne Video Production has the unique ability to combine their web video expertise with strategic SEO practices from Melbourne SEO.
Director, David Jenyns, has, over several years, built a team of experts who are niche experts to support the business, and who share his ethos for ethical, professional internet marketing and web video.