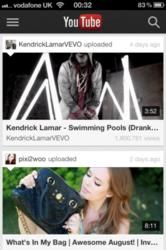 I truly believe YouTube will be boasting new megalithic numbers shortly
Melbourne, Victoria (PRWEB) September 14, 2012
Web video fans breathed sighs of relief when YouTube's blog announced the release of their own iPhone application, more commonly known as an "app", on Tuesday . The free web video app supersedes the Apple version, which was limited in its capabilities since the very first iPhone release.
The iTunes store made the long-awaited YouTube app public at 3:01am on 11 September 2012. Those who've already downloaded the free program are now experiencing thousands more official videos, smoother streaming, a YouTube channel guide, easy search capabilities, and social media sharing.
The previous YouTube app had a smaller selection of videos, forcing iPhone users to watch on their Safari browsers, which made for cumbersome viewing. "The old YouTube app had a very limited catalogue," comments David Jenyns, owner of web video and YouTube-specialized marketing company, Melbourne Video Production, "and wasn't that easy to use."
Once released, David says "I, for one, jumped on my iPhone right away to download it." He continues, "The new YouTube app adds more force to the marketability of web videos because it's so easy to use. As a matter of fact, I've already shared a few videos on it. I truly believe YouTube will be boasting new megalithic numbers shortly."
YouTube's website reports they now get one billion views per day and David further comments, "Just imagine how that number will grow with YouTube's proper web video app now on iPhone and iPad touch."
The web video giant knows that when their viewers find a great video, the first thing they'll want to do is share it; so they've incorporated an easy feature to do just that. A single tap brings up a list, where the user can share via Google+, Twitter, Facebook, email or SMS.
Before this recent launch, YouTube's website has seen its traffic triple since last year, with more than 20% of views coming from mobile devices. With the release of their official app, they're likely watch the percentage soar even higher.
"Imagine how many more people will record, upload, and then share web videos because of the ease of this new app," continues David, "it'll make their current statistic of 3-hours of uploads per minute via a mobile device look like nothing."
The official YouTube app was just released and can be downloaded from Apple's iTunes store for iPhones and iPad touch devices: http://itunes.apple.com/app/youtube/id544007664
The iPad version will be available in the upcoming months.
About Melbourne Video Production
Melbourne Video Production is a division of MelbourneSEOServices.com, a full service search engine optimization (SEO) consultancy, based in Australia, but with a worldwide client base.
Melbourne Video Production has the unique ability to combine their web video expertise with strategic SEO practices from Melbourne SEO.
Director, David Jenyns, has, over several years, built a team of experts who are niche experts to support the business, and who share his ethos for ethical, professional internet marketing and web video.
Click here if you want to create professional web videos for your business.