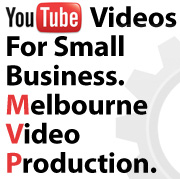 We're extremely thrilled to be amongst the top sponsors for WordCamp
Melbourne, Australia (PRWEB) April 22, 2013
Commencing on Saturday, 27 April 2013 the renowned blog publishing company WordPress will hold their popular WordCamp conference in Melbourne, Australia. In line with the upcoming event, web video SEO expert and Director of Melbourne Video Production David Jenyns has announced his company's sponsorship involvement with the seminar, "We use the WordPress platform quite extensively and are really proud to be Silver Sponsors for next week's sessions."
Since its inception in 2003, WordPress has grown quickly as a result of being both a free program and easy to use. Its popularity can also be tied to its versatility, being able to fit the needs of the most basic blogging website to more complicated online e-commerce and content management businesses. "For integrating web videos on websites, we find WordPress really easy to work with," says David.
Now with the current version 3.5 being downloaded more than 17 million times, there are countless users around the globe requiring assistance and guidance on the best ways to implement, use and maintain the program.
That need for support is where WordCamp got its start back in 2006. The idea behind it was to allow WordPress devotees to come together to discuss all things related to the program. David says "because WordPress is an open source application, the involvement of sponsors like us is really important. Through Melbourne Video Production and fellow supporters, we've been able to make this event possible for everyday users who otherwise wouldn't have access to this level of information and expertise."
David comments that "as a result of the impressive list of speakers and sessions, it's naturally expected the conference will bring together all variety of developers, bloggers, designers and other serious users" of the application into one place.
WordCamp Melbourne is being held over two weekend days, beginning on Saturday 27 April 2013 and ending on Sunday 28 April 2013. There will be two session streams running simultaneously over the two days: a more advanced technologically-savvy one called the "Developer and High Tech Stream," and the "User and Blogger Stream" which will focus on a wider range of topics for all levels of users.
David will also be speaking at the WordCamp event, giving a specialised session on using WordPress and Video SEO in the more general stream on Sunday. "WordCamp Melbourne is going to be a really invaluable educational resource for WordPress fans, whether you're a professional or novice, users have nothing to lose and everything to gain by attending the seminar," says David.
Other than himself, David adds some of his team at Melbourne Video Production will also attend the event because the "line-up of speakers and tips are too valuable to pass up."
The highly anticipated WordCamp event is quickly approaching for WordPress enthusiasts located in Australia. Alongside fellow contributors, Melbourne Video Production have proudly announced their support of the event, "we're extremely thrilled to be amongst the top sponsors for WordCamp." To learn more about attending WordCamp, click here, or to find out how Melbourne Video Production can create web video packages for any type of WordPress site, visit: http://www.melbournevideoproduction.com.au
About Melbourne Video Production
Melbourne Video Production is a division of MelbourneSEOServices.com, a full service search engine optimization (SEO) consultancy, based in Australia, but with a worldwide client base.
Melbourne Video Production has the unique ability to combine their web video expertise with strategic SEO practices from Melbourne SEO.
Director, David Jenyns, has, over several years, built a team of experts who are niche experts to support the business, and who share his ethos for ethical, professional internet marketing and web video.