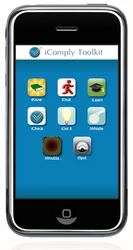 Anything that gets employees talking with each other about compliance is a big plus for employers.
Mount Kisco, NY (PRWEB) November 1, 2010
WeComply, Inc., a leader in web-based compliance training for corporate employees, has released the first app intended to help employees understand and comply with the multitude of laws and regulations governing today's workplace. WeComply's new iComply Toolkit is a collection of compliance and ethics resources — some serious and some on the lighter side — for employees throughout the U.S.
The app (available free of charge in Apple's App Store at http://itunes.apple.com/us/artist/appropos/id302490649) includes the following tools:

iKnow: A primer on the most important compliance and ethics topics.
iDeal: A guide to dealing with difficult situations, from natural disasters to unannounced plant inspections.
iLearn: A link to online compliance training courses specially developed for the iPhone and iPod Touch (user account required).
iCheck: A series of virtual wallet cards containing checklists of essential compliance do's and don'ts.
iGetIt: A link to web-based "tips" on a broad range of compliance and ethics topics.
iWhistle: A shortcut to your organization's e-mail and telephone hotline for blowing the whistle on violations of law and/or policy (whistle included).
iWouldaCouldaShoulda: A conjurer of excuses for non-compliant behavior in case the cat gets your tongue.
iSpot: A faux Geiger counter that spots and identifies non-compliant behavior in your colleagues and co-workers.
"There are things that employees need to know when they need to know them – not necessarily when they're sitting at a computer or working near a supervisor," said David Simon, WeComply's founder and president. "For example, if a government inspector or law-enforcement officer showed up unexpectedly in your work area and started asking questions, would you know what to do?" In addition to a wealth of practical resources, the iComply Toolkit includes some whimsical features that an app owner can enjoy with co-workers. "Anything that gets employees talking with each other about compliance is a big plus for employers," Simon said.
About WeComply
WeComply is the leading provider of customizable online compliance training, offering more than 60 courses on such topics as antitrust, business ethics, workplace discrimination and harassment, information security, data privacy, anti-corruption, and Code of Conduct. For more information, visit http://www.wecomply.com.
# # #