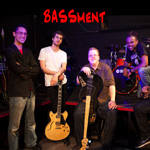 While there is no substitute for a real bass guitarist, the absence of a one allows us to take the music anywhere we want it to go.
San Jose, CA (Vocus/PRWEB) March 16, 2011
One of the most unique and versatile bands to come out of the Bay Area in recent years, BASSment combines jazz, blues, funk, soul, and everything in between to create a tasteful mélange of musical chemistry. Known for their amazing talent and energy, BASSment is a modern "organ trio" style ensemble based in San Francisco that performs in various size configuations for festivals, weddings, corporate and private parties, wineries, casinos, clubs, lounges and restaurants.
Their performance at the Hedley Lounge at Hotel De Anza in San Jose will go on from 8:30 pm until 12:30 am and will feature the multi-talented left-hand bassist and organist Kevin Wong, saxophonist extraordinaire Stabe Wilson, passionate drummer Dante McClinton, and Bay Area guitarist Ken Harrill. Admission to this event is free. 10 different live albums will be available for only $7 each.
Founder Kevin Wong created this jazz funk ensemble out of his appreciation for the popular organ trio Soulive. Like Soulive, Kevin plays bass lines with his left hand while simultaneously playing chords, melodies, and solos with his right hand. "While there is no substitute for a real bass guitarist, the absence of a one allows us to take the music anywhere we want to go," says Wong. "Spur of the moment chord substitutions, timbre/texture changes, energy/intensity level changes or morphing into an entirely different song are all possible at anytime."
Organist, saxophonist, and pianist Kevin Wong graduated from San Francisco State University with a B.A. in Jazz Performance, studying jazz piano with Dee Spencer & jazz saxophone with Andrew Speight. Born with perfect pitch, Wong began playing piano at the age of 4, played his first public performance when he was 5, and began composing at the age of 6. He has played with numerous industry greats, such as Booker T Jones, James Carter, T.S. Monk, Frank Capp, Jimmy Cobb, Ray Drummond, Jon Jang, Wayne Wallace, John Calloway, and Vernon Black.
Passionate, soul stirring, and versatile saxophonist Stabe Wilson has appeared with a number of prominent gospel artists including the Hawkins Family,Donald Lawrence, Richard Smallwood, Kirk Franklin, the Winans, and the late great Rev. James Cleveland. He has also performed with Pete Escovedo, Will Downing, Kenny Garrett, Bilal, Howard Hewitt, and Jonathan Butler. Stabe toured on the "MTV Good Vibes" tour featuring India.Arie, Mystic, and the Black Eyed Peas, as well as touring with the late, gifted Billy Preston and the late, beautiful Phyllis Hyman and the late, legendary Jimmy Smith.
Dante McClinton is a San Francisco Bay Area-based drummer with more than 20 years experience. His diverse playing style includes gospel, R&B, rock, funk, jazz, reggae and afro-cuban. Danté has shared his talents with artists including grammy award winners: Raphael Saddiq, Yolanda Adams, Shirley Cesaer, and Ricky Dillard; grammy award nonminees: Ledisi, Dave Hollister, N'dambi, Truth Hurts, and Goaple; other artists include: Martin Luther of the Roots, Bray, Sakai, Will Hammond, Qui and many more. Dante pours his heart, mind, and soul into his music, as it is his passion and art.
Ken Harrill is a versatile guitarist residing in the Bay Area. Ken studied music at Dick Grove school of music in Los Angeles and has been a studio musician for over 20 years. Ken has been heard on TV shows, movies, CDs and computer games, and has performed with Narada Michael, Greg Phillinganes, Patti Austin, Dennis Chambers, Little Anthony and the imperials, Booker T, Clearnce Clemens, Neil Young, Vince Neil (Motley Crue), Eric Martin (Mr. Big), members of Tower of Power to name a few.
For more information BASSment's San Jose show or to inquire about bookings or other questions, call (650) 353-7972 or visit their website at http://www.bassmentmusic.com.
About BASSment
BASSment is an exceptionally talented and interactive organ trio based in San Francisco with a unique combination of virtuosity, chemistry, emotion, and feel. The musical group plays weddings, corporate and private parties, wineries, casinos, clubs, lounges and restaurants.
Available in larger configurations as well, the group can play any genre—and their ability to cover songs requested by the wedding party makes them a popular San Francisco Bay Area wedding band. As of this time, the band has written 10 original songs, and will be releasing its first studio album sometime this year. Their YouTube playlist can be found at: http://www.youtube.com/view_play_list?p=21FAB6A73B4F5A89.
# # #