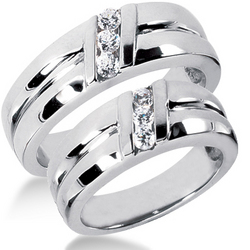 New York, NY (PRWEB) October 22, 2009
During a worldwide economic recession as we are currently facing, people have to make tough choices about what to spend on a daily basis. Almost every industry is experiencing the cutbacks in consumer spending, and the wedding industry is no exception. However, the economy does not have the power to stop people from getting married; it just changes what they are able to spend on their weddings.
One company has taken steps to help today's betrothed to purchase their engagement rings or wedding rings at outrageously discounted prices. WeddingBandsWholesale.com is an online merchant of wedding rings, eternity rings and other fine gold and platinum jewelry, but what sets them apart is their ability to sell their products at such low prices, an average of 50% lower than most retailers. They can do this because their expert design team manufactures every piece of jewelry themselves, as opposed to many online retailers who re-sell items they have purchased from someone else, thus driving up prices dramatically.
But the savings aren't just for those who are planning to get married. With the holiday season rapidly approaching, many people are looking for ways to really 'wow' their friends and family this year, without breaking the bank in the process. Jewelry is a classic gift at any time of year, but when people are trying to save some cash, they usually see jewelry as being out of their spending range, or off limits entirely. WeddingBandsWholesale.com wants people to know that even though times are tough; it doesn't mean that you can't find reasonably priced jewelry gifts for your loved ones.
While people can deal with cutting expenses in other aspects of their wedding, having to skimp on wedding bands, the physical and visual symbol of your marriage often seems like too high a price to pay. But now WeddingBandsWholesale.com has seen to it that they don't have to make sacrifices when it comes to their wedding rings. President of WeddingBandsWholesale.com, Ronnie Almani, found that if he used the current economic conditions to his advantage, he would have a never-ending source of eternally grateful customers.
WeddingBandsWholesale.com customers agree that their prices and products just can't be beat; "I ordered a Diamond Wedding Band from Wedding Bands Wholesale and it arrived to my house just one week from the day I ordered it. The ring is more beautiful than I hoped it would be, and for such a great low price!!! The ring is beautiful, and despite the fact that it needed to be sized, it now fits very well and is a true comfort fit. The ring is just perfect in every way and I would HIGHLY recommend it or any other beautiful ring on WeddingBandsWholesale.com to anyone who is looking for the perfect wedding ring!!!"
WeddingBandsWholesale.com has created a revolution in the engagement and wedding ring industry by dealing solely with the consumer and manufacturing products on demand. Every ring is made to order, ensuring that the customers are getting exactly what they want, without having to pay ridiculous prices to retailers who will then have to pay someone else to make a custom order.
For the past several years, the Wedding bands wholesale Inc. team has been working to eliminate the middle man by giving the consumer the same factory direct pricing as a retailer would get to stock in their stores. So if you are planning to get married, or if you just want to save a bundle on your jewelry purchase, consult with the WeddingBandsWholesale.com team specialist to find the perfect piece of jewelry at the perfect price.
Located in the heart of New York City's Diamond Jewelry District, Wedding Bands Wholesale's well esteemed company is considered one of the premier online retailers of diamonds and fine jewelry. With over 40 years of experience, Wedding Bands Wholesale is dedicated to achieving the highest standards in customer service, quality and design, and has become a highly distinguished company through hard work and advanced expertise. Wedding Bands Wholesale specializes in designing and creating gold and platinum wedding bands, diamond engagement rings and all fine diamond wedding jewelry from start to finish from our their own on-site manufacturing facilities.
###