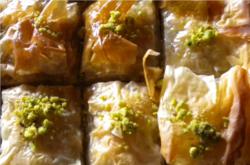 San Francisco, CA (Vocus/PRWEB) April 22, 2011
Original Hayes and Kebab San Francisco Mediterranean restaurant is now offering custom catering options made to order. Their catering menu selection includes finger foods, kebabs, wraps, gyros and dips that are made according to recipes handed down for generations and prepared with handpicked fresh ingredients. Owner Bawer Tekin personally works with each catering client to create the perfect menu for his or her needs.
Finger food favorites include lavash bread with dips including hummus, baba ghanoush, masto sir; a fruit and cheese tray; and a mixed appetizer plate with fresh vegetables and miniature chicken and lamb skewers.
Shish kebabs are the house specialty. Flavors include adana kebab (minced lamb lightly spiced with fresh parsley, bell pepper, onion and charcoal grilled), beef kebab made with marinated top sirloin, marinated chicken kebab, grilled lamb kebab, lemon and herb salmon kebab, and beyti kebab (ground lamb grilled on a skewer and wrapped in lavash bread topped with yogurt and tomato sauce). Preparation is critical to their taste, and a lot of effort goes into the restaurant's shish kebabs.
"How you pick the meat, how you marinate it, and how long you cook it affects the quality," said Bawer. "The meat needs to be lean; the marinade needs to be just right; and cooking time and temperature need to be perfect."
Wrap selections include lamb and beef gyro, chicken gyro, adana kebab wrap (charcoal-grilled minced lamb with fresh parsley, red onion and a touch of hot chili), kofta wrap (minced beef with parsley and red onion), falafel wrap (fava beans, vegetables, spices, deep-fried served with hummus), kink style falafel wrap (falafel with grilled eggplant and feta cheese), salmon wrap (skewered charcoal-grilled salmon with fresh tomato, lettuce and onion), and vegetarian wrap (grilled assorted fresh vegetables and feta cheese). All wraps and gyros are served on lavash bread with lettuce, tomato, onion and tahini sauce
Sauces and dips are homemade by head chef Emin Tekin (Bawer's brother). To make the hummus, he soaks dried chickpeas overnight and then boils them. Other restaurants use canned chickpeas, but what is saved in time and energy is lost in flavor. He then mashes the chickpeas and blends in tahini (sesame seed paste), olive oil, lemon juice, salt and garlic. Emin makes baba ghanoush from fresh aubergine (eggplant) that has been broiled over an open flame before peeling, so that the pulp is soft and has a smoky taste.
"We go to the produce market every morning and pick out the best produce," said Bawer. "It would be easier to have it delivered, but then we risk getting the stuff that's left over—that no one else wanted."
Bawer started to study Mediterranean cooking when he was 16 at uncle's restaurant in Van, Turkey. He has worked in every restaurant position, including dishwasher, bus person, server, and bartender. He learned discipline and keen attention to the customer as a server on a Celebrity Cruises ship.
"Although it sounds cliché, I want provide the best service at a great price," said Bawer.
For more information about San Francisco catering service from Original Hayes & Kebab, call them at (415) 992-6604, visit their website at http://www.hayeskebab.com, or drop by their restaurant at 580 Hayes Street, on the corner of Hayes and Laguna, in San Francisco.
About Original Hayes and Kebab Mediterranean Restaurant
Original Hayes and Kebab is a family-owned San Francisco Mediterranean restaurant that specializes in traditional cuisine like shish kebabs, falafels, wraps, gyros, and baklava. Traditional Kurdish coffee, wine, and beer are available.
Original Hayes and Kebab serves the San Francisco Bay Area, including the communities of Atherton, Belvedere, Berkeley, Burlingame, Corte Madera, Daly City, Emeryville, Hillsborough, Marin, Mill Valley, Oakland, Pacifica, Palo Alto, Piedmont, Redwood City, San Francisco, San Mateo, San Rafael, Sausalito, Tiburon, and Woodside.
# # #