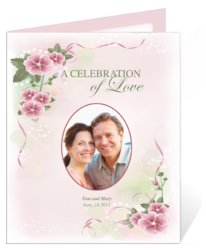 Convenience is important to brides especially as they have to manage so many small details to get ready for their special day.
(PRWEB) April 26, 2012
For brides-to-be, finding time to manage everything in planning their special day can be stressful. The Wedding Program Site, an association of graphic designers in Northern California specializing in wedding designs, is a new resource that helps brides create custom wedding program templates for their weddings, easily checking off one thing on the to-do list without added stress.
"Wedding planning can be stressful, especially for brides who have a vision in their mind of what they want their wedding elements to look like, such as their wedding programs," said Carole Galassi, CEO and Creative Director, of The Wedding Program Site. "With the Wedding Program Site, brides can work with our talented team of graphic designers to create a program that fits their needs and style. They can also choose from our predesigned program templates."
With The Wedding Program Site, brides can provide feedback to what style they are looking for and what type of elements they would like to incorporate into their programs. The site has some pre-created templates that can be selected, or brides can work with a graphic designer to create a custom template. The Wedding Program Site has programs available in four styles: letter single fold programs, graduated fold programs, legal single fold programs, and long fold programs. Wedding programs can also be designed in a trifold brochure style for couples who wish to incorporate more detail.
The programs from The Wedding Program Site can be customized to include multiple pages. Additionally, they are fully customizable to ensure that wedding parties are able to incorporate pictures, special sayings and themes that are part of their wedding day. The wedding program template will reflect all of these assets, making it easy for brides to create a wedding program that reflects everything that they want.
"Using The Wedding Program Site to create my programs was easy and stress-free," said [bride] of [city/state]. "It was so easy to work with one of the company's graphic designers -- they really understood my vision and what I was looking for. Wedding planning is stressful as it is, so it was nice to work with a company that understands what it takes to plan a wedding and gives you a chance to relax and enjoy the moment instead of having to worry about all the little details."
In addition to creating wedding program templates, The Wedding Program Site also sells accessories and other products that are important to a bride's special day. These include candles, guest books and favors. The candles can be customized with a special saying and photo of the couple, as well as designed in the couple's colors to fit the theme of the wedding. Many people choose to use the candles during the ceremony, or even to decorate the bridal table during the reception.
There are several types of guestbooks available on The Wedding Program Site that boast different designs and themes. This makes it possible to match the design of the programs to the guestbooks. Among guest favors are candles, elegant favors such as picture frames and name-holder favors for guests. The site also sells gifts for bridesmaids, which can also be selected by the bride to reflect her taste and style.
"Our goal with The Wedding Program Site is to create a one-stop shop for brides as they are planning their weddings," said Christie, senior customer service representative. "Convenience is important to brides, especially as they have to manage so many small details to get ready for their special day. By creating our wedding program templates and working with brides to meet their goals, we are able to help them check one thing off the list without adding any stress to their planning. We love being able to use our experience in the design world to help them expand their theme across all elements, such as guestbooks and candles."
The Wedding Program Site association of graphic designers have a passion for helping brides relieve stress on their wedding day by creating wedding program templates that are easy to use and reflect the beauty and theme for the bride's wedding. The graphic designers are experienced and have been working in design software for years. They specialize in using software such as Microsoft Word, Microsoft Publisher and Apple iWork Pages. These applications make it easy for brides to input the information necessary to complete the wedding programs and easily print them off. Because of their experience in design, the graphic designers are also able to help with customizing candles and guestbooks available on the site.
ABOUT THE WEDDING PROGRAM SITE
The Wedding Program Site is an association of graphic designers based in Northern California's San Francisco Bay Area, who specialize in creating wedding program templates for brides-to-be. The designers focus on creating beautiful and easy to use designs that relieve stress from the planning process. In addition to selling wedding program templates, The Wedding Program Site also sells customizable guest books and candles. It also sells guest favors to help add an extra touch to a bride's special day. For more information about The Wedding Program Site, visit http://www.weddingprogramsite.com.