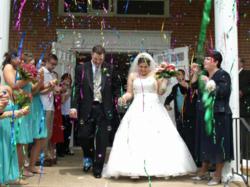 The WeddingPhotographyQuotes.com company now includes marketing services with each premium and pro plan listing.
Beaumont, TX (PRWEB) January 13, 2013
Couples searching online in hopes of hiring a wedding photographer can have success if the right resources are available. The Wedding Photography Quotes company has launched its new directory system to help provide the bridge of communication between professionals and couples. This wedding directory is now open for listings for photographers and there is no charge for the basic listings offered. More information can be located online at http://weddingphotographyquotes.com/add-listing.
Professionals know what equipment to use, how to make brides look fantastic and how to get the job done efficiently. Most couples do not know this information and can struggle with the research and interview process. Every person has a different budget for a wedding and no two photographers offer the same services for a specific price.
One of the ways that the new directory is helping to eliminate these problems is by allowing companies to upload photos, pricing information and portfolios online. Each listing package includes multiple features that are applicable to each photographer or freelancer who creates a listing.
The marketing side of business is what some companies struggle with when trying to locate new clients. The high cost of many advertising solutions is one element that prevents some companies from reaching paying consumers. The wedding industry can be difficult to find appropriate advertising solutions due to the niche market of this industry.
The WeddingPhotographyQuotes.com company now includes marketing services with each premium and pro plan listing. These services are designed to help companies lower the cost of marketing by using a group of professional marketers who currently work in the wedding industry.
The new marketing services make use of search engine marketing and video marketing to help photographers build clientele without expensive costs. These services are offered as an additional way apart from a company website that a business owner can use to reach more brides-to-be online. Through local and national search marketing, the results that can be achieved could help a company reach the number one position in search engines like Google, Yahoo or Bing. The video marketing is used to promote videos or slideshows to all of the top video websites online.
About Wedding Photography Quotes
The Wedding Photography Quotes company extends its services to professionals and freelancers currently working in the wedding industry. The creation and launch of the new directory is helping more companies make crucial connections with couples now hiring photographers. Through its marketing and promotional services, the Wedding Photography Quotes company uses proven strategies to raise the publicity level of companies that select these add-on services. The 2010 launch of this company has helped it to innovate in 2013 and brand new services have been added that are set for integration through the New Year.