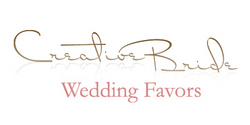 Planning a wedding requires a helpful support system that provides insight into all of the necessary details of an event
Baltimore, MD (PRWEB) March 24, 2009
Creative Wedding Favors, a unique wedding and event planning website with affordable, personalized bridal shower and wedding favors, announces the addition of a new resource section, complete with articles on a variety of subjects that brides worry about most when planning a wedding. Many of the tips and suggestions come from those in the know who understand the challenges of planning a big event, such as selecting the right flowers, deciding on wedding favors, and picking suitable hair adornments.
"Planning a wedding requires a helpful support system that provides insight into all of the necessary details of an event," said Cherie Johnson, owner of Creative Wedding Favors. "Creative Wedding Favors' new resource section is aimed at helping brides make informed choices, educating them on how to manage all of the aspects of planning a wedding and tying up the many loose ends with ease."
With a number of informational articles on subjects such as Choosing Your Wedding Gown, Easy Ways to Personalize Your Wedding, and Avoiding Wedding Stress, every bride-to-be will find something useful on the Creative Wedding Favors website and be more prepared to plan her big day. To read the latest wedding resources and articles or browse the extensive inventory of shower and wedding favors, please visit http://www.CreativeWeddingFavors.com to make your wedding a success.
About Creative Wedding Favors
Founded in 2006, Creative Wedding Favors offers a large selection of colorful, customizable baby and bridal shower, graduation, quinceañera, anniversary, and wedding favors at great prices. Since the beginning, the company has placed an emphasis on quality of product and customer service. With products ranging from personalized tags and labels to boxes, bags, and ribbons, Creative Wedding Favors provides everything the resourceful event planner needs to make the festivities a success. To order the perfect favors for your upcoming event, visit http://www.CreativeWeddingFavors.com for ideas, tips, and an endless list of unique gifts your guests will cherish.
# # #