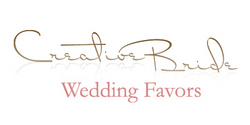 Brides want to give their guests something that will be useful long after the reception is over
Baltimore, MD (PRWEB) August 25, 2009
Creative Wedding Favors, an online event planning store with affordably priced bridal shower, birthday, graduation, baby shower, and wedding favors, has just released its list of top selling wedding favors for the month of July - favors that brides have been eager to give out at their own receptions.
Functionality still remains the primary requirement for brides purchasing wedding favors, and July 2009 was no different. Brides' favorite top selling wedding favors were:
1. We Tied the Knot Bottle Stoppers
2. "Love Beyond Measure" Heart Measuring Spoons
3. Personalized Theme Candy Jars Wedding Favors
4. "Love Rocks" Engraved and Polished Stone Favors
5. Love Bird Salt and Pepper Shakers in Gift Package
6. Chrome Heart Wine Bottle Stopper Wedding Favors
7. Two Peas in a Pod Salt and Pepper Shakers
8. "Ain't Love Grand?" Piano Place Card Holders
9. "Amore Stainless Steel" Pizza Cutter Favors
10. "Turning Leaves" Bookmark with Burgundy Silk Tassel
"Brides want to give their guests something that will be useful long after the reception is over," said Cherie Johnson, owner of Creative Wedding Favors. "Choosing wedding favors that are both practical and well made are sure to be a hit with your friends and family." To browse top selling wedding favors, gifts, and accessories, please visit http://www.creativeweddingfavors.com.
About Creative Wedding Favors
Founded in 2006, Creative Wedding Favors places an emphasis on quality of product and customer service, offering a large selection of affordable, colorful baby and bridal shower, graduation, quinceañera, anniversary, and wedding favors. With a selection ranging from personalized tags and labels to boxes, bags, and ribbons, Creative Wedding Favors provides everything the resourceful event planner needs to make the occasion a success. Please visit http://www.CreativeWeddingFavors.com for unique gifts and favors that your guests will cherish.
###