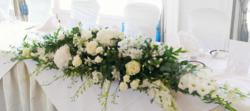 All wedding flower orders over £600 made before 31 March 2013 will include a free bridal bouquet worth £95.
(PRWEB UK) 31 January 2013
Richard Elder Floral Design, one of the leading florists in Maidenhead and the wider Berkshire area, has announced a wedding flowers promotion to help couples who are planning their wedding for the Spring of 2013.
The promotion focuses on Floral Design's wedding flower packages which start at £500. All wedding flower orders over £600 made before 31 March 2013 will include a free bridal bouquet worth £95. To be eligible for the promotion, interested parties just need to quote the code 'Wedding Flowers' when contacting Richard Elder Floral Design for the first time.
Commenting on the promotion, Richard Elder from Richard Elder Floral Design said "Wedding flowers are an important part of any wedding. Beautiful flowers create a lasting impression and the designs, fragrances and colours can bring any venue alive. We're expecting this promotion to be very popular because it represents a 15% reduction in our standard package."
Richard continued "We offer a free wedding flower consultation at the Glasshouse Studios where we can give advice on seasonality of flowers, all design aspects from bouquet styles to venue decoration and how to get the best value for money within the budget. Just call or email to arrange a consultation and we'll work out a wedding flower package which is right for you."
"Although Richard Elder Floral Design specialises in providing wedding flowers in Maidenhead and the wider Henley, Windsor, Reading and Bracknell areas, we regularly supply wedding flowers all over the UK. We've developed an enviable reputation in the wedding sector and one which we're extremely proud of."
To find out more about this promotion or to obtain more information on Richard Elder's range of wedding flower designs, visit http://www.floraldesign.co.uk or call 01628 821 122.
ABOUT RICHARD ELDER FLORAL DESIGN
Richard Elder Floral Design was established over 15 years ago and is recognised as one of the leading floral design companies in the UK. Situated in the Stubbings Estate and Nursery near Maidenhead (Berkshire), Richard Elder Floral Design is ideally located to serve both London and the Home Counties. As a specialist in floral design, Richard Elder serves a growing list of corporate clients, luxury hotel brands and restaurants across London and the South-East. From corporate flowers in London to unique floral designs for private weddings and parties, Richard Elder has developed an enviable reputation for creativity and interpretation.