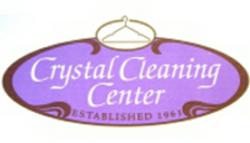 Crystal Cleaning Center is a place where memories and heirlooms are respected and treated as the reverent pieces that they are
San Mateo, CA (PRWEB) August 20, 2012
Family heirlooms are often the most treasured possessions one can own. They are not only of great value but are also priceless in terms of the history, memories and sentiments they hold. However, after being passed from generation to generation and from family member to family member, these items may very well require the use of an expert to restore them to their former glory, especially in the case of clothing. As a San Mateo vintage clothing restoration expert, Crystal Cleaning Center understands this and continues to offer respect and care while restoring precious garments.
"Crystal Cleaning Center is a place where memories and heirlooms are respected and treated as the reverent pieces that they are," Lynnette Watterson of Crystal Cleaning Center said.
Watterson is the second generation in a family business that has been lending its expertise in wedding gown cleaning, dry cleaning and vintage clothing restoration for 49 years. She has seen many dresses come through her doors for a variety of special occasions and reasons. In one case, Crystal Cleaning Center restored a grandmother's wedding dress, which was then worn as a debutante gown.
"Once, we completed the restoration of a wedding dress that was then displayed at the reception of the couple's 50th wedding anniversary," Watterson said. Ten years later, their granddaughter wore it for her wedding day.
It is stories such as these that continue to inspire Watterson and her staff to care for the materials and fabrics brought to them, knowing that contained in each piece of clothing is a value that goes beyond the cost of the cloth.
A third-generation prom dress was brought in for restoration--the first two times it was worn, each couple got married; now, the grandson's girlfriend is wearing it...are there wedding bells in the future?
At Crystal Cleaning Center, all gowns are expertly cleaned and placed in an acid-free, special museum packaging box for protecting restored and older textiles. In addition to providing expert dry cleaning, vintage clothing restoration and wedding gown cleaning and preservation, Crystal Cleaning Center also provides leather and suede cleaning, alterations and repairs, and expert care for draperies and home décor.
For more information about Crystal Cleaning Center's services, call 650-376-0580, view the dry cleaning experts on the Web at http://local.sfgate.com/b20832466/Crystal-Cleaning-Center or visit 110 DeAnza Blvd. in San Mateo.
About Crystal Cleaning Center
Crystal Cleaning Center is a second-generation family business in San Mateo that has been in operation since 1963. Its professional team provides expert dry cleaning services, wedding gown cleaning and preservation, and vintage clothing restoration. Crystal Cleaning Center has been recognized as the Dry Cleaner of the Year for the State of California, as well as the International Dry Cleaner of the Year. Recently, Crystal Cleaning Center received the distinction of Dry Cleaning and Laundry Institute's Seal of Approval Award of Excellence.