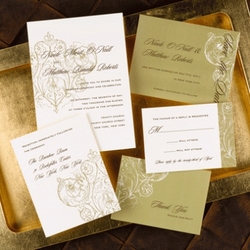 Set the ambiance with the perfect invitation
Los Angeles, CA (PRWEB) March 23, 2009
Los Angeles, CA -- Wedding Invitations Delight (http://www.WeddingInvitationsDelight.com)] has announced that they are offering a wide range of wedding invitations and baby announcements with free shipping and near wholesale pricing for the upcoming busy spring wedding invitation season.
Many new wedding invitation styles are being introduced such as "Blessed Union," which features a large pearl window frame behind an open bible surrounded by pearl roses and "Sketched," which features a lovely delicate lilac blossom over a white background. Elegantly engraved invitations and seal n' send invitations are now being offered at their lowest prices ever. The new wedding invites come from the finest suppliers in the industry, allowing Wedding Invitations Delight to stay ahead of the game on current wedding invitation trends for this spring's soon-to-be brides and grooms. Since each and every wedding invitation is special and unique, Wedding Invitations Delight offers simple and easy online ordering that allows the unique crafting of personalized wedding invitations to every single customer.
Even though Wedding Invitations Delight is a newcomer in the online wedding invitations and baby announcements market, it has established itself with a reputation for high quality wedding invites and high customer satisfaction ratings. They carry a wide variety of invites for events such as engagements, bridal showers, rehearsal dinners, save the date, and casual weddings. Since 2008 they have been serving customers all over the world, their motto being "Set the ambiance with the perfect invitation," and "We have the lowest prices, guaranteed."
Most brides and grooms in the United State hold their weddings beginning in the spring of each year. Couples must usually commence the ordering process a few months before their planned wedding date to ensure sufficient time for their guests to receive the wedding invitations and give time for responses. With Wedding Invitations Delight, orders are processed instantly and shipped within a couple days. Whether the event is a rehearsal dinner, bridal shower, or casual wedding, Wedding Invitations Delight has the invitations available for that special event. Their fast order fulfillment process allows couples to have the time they need to get their wedding invites and baby announcements out to their guests and receive the confirmations from their guests.
About Wedding Invitations Delight
Wedding Invitations Delight was founded in 2008, and has quickly risen through the ranks of the wedding invitation and baby announcements market to distinguish itself as a trustworthy and customer-centered store carrying top-quality products from the best suppliers in the world. Wedding Invitations Delight prides itself in delivering each and every customer the best experience possible anywhere for their wedding invitation needs.
Contact:
Wedding Invitations Delight
http://www.WeddingInvitationsDelight.com
###