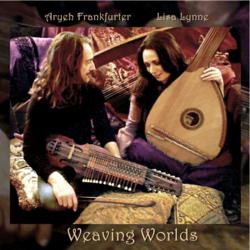 Aryeh Frankfurter and I are two multi-instrumental veteran musicians who are known for our work on Celtic harps, and for our love of early acoustic instruments
San Francisco, CA (Vocus/PRWEB) June 01, 2011
Lisa Lynne and Aryeh Frankfurter are successful Indie musicians and the duo has recently released an album of instrumental music that brings early sounds into the modern times. These indie musicians have sold more than one million CDs at festivals and fairs in the Bay Area and across the United States.
The album was released worldwide on May 1. Called "Weaving Worlds," the album is available on most retail music websites, ITunes, Amazon, and on Lisa Lynne's website. The duo will be hosting a release party and holding a performance in Los Angeles California from June 3-6.
"Aryeh Frankfurter and I are two multi-instrumental veteran musicians who are known for our work on Celtic harps, and for our love of early acoustic instruments. In this imaginative recording we play Celtic Harps, Swedish Nyckelharpa, Irish Bouzouki, Ukranian Bandura, Cittern, Mandolin, acoustic guitars, violas, violins, and acoustic bass," said Lisa Lynne.
Guest musician George Tortorelli also plays a variety of bamboo flutes, Irish whistles and recorders from around the world on the album.
"Weaving Worlds" blends together original and traditional music and follows up the release of Lisa and Aryeh's critically acclaimed 2009 debut album, "Two Worlds One."
Their tour starts on June 3 in the Los Angeles area at the Conscious Colors Yoga Studio in Los Osos. They will travel to Laguna Hills on June 4 and Thousand Oaks on June 5. Their performance in Alta Dena on June 6 will feature legendary storyteller Patrick Ball with a new show called "Legends of the Celtic Harp," featuring a compelling blend of live music and heartwarming storytelling.
The duo will also be performing several California festivals including the Gualala Festival of the Arts, and a concert at the Occidental Center for the Arts.
For more information, call 818-569-5691 or visit http://www.LisaLynne.com for updated performance schedules.
About Lisa Lynne
Lisa Lynne is a multi-instrumentalist and performer who has gained worldwide recognition for her original harp music featuring the Celtic Harp. She specializes in traditional acoustic folk instruments and is widely acclaimed for composing memorable and heartwarming melodies that transcend category and genre and can provide wedding music. She takes pride in some of her fans use her talents for healing music.
Lisa is also founder and director of "Harps for Hearts" an innovative music program that places live music and musicians in several California hospitals.