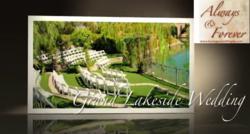 I absolutely love winter weddings
Las Vegas, NV (PRWEB) January 02, 2013
Las Vegas based wedding consultants Always & Forever Weddings and Receptions are now offering 10% off wedding ceremonies for couples looking to tie the knot over the Holidays. Couples looking to save money on their wedding packages simply need to mention the "end of year special" to receive 10% off.
Winter weddings continue to rise in popularity as couples look to combine holiday celebrations with their nuptials. Raquel Ryan, owner and operator of Always & Forever Weddings and Receptions stated, "I absolutely love winter weddings because the holidays are such a happy time for people anyway. Add in the romance and love of a couple getting married and you've got perhaps the happiest occasion possible!"
Always & Forever Weddings and Receptions offer several wedding packages and ceremony locations in Las Vegas, NV including the Grand Lakeshore, Valley of Fire, and Luxury Estate. They are known as one of the only chapels in Las Vegas to merge the beauty and elegance with the affordability of the "Strip Chapels." Couples can choose from a variety of indoor and outdoor locations along with all the extras such as flowers, music, limo service, tux and gown rentals and more.
Patrick and Lisa Chavez stated, "Always & Forever made our Lakeside wedding at Desert Shores absolutely beautiful and unforgettable! Thank you so much for the highly organized ceremony and all of your help. The location and service exceeded our expectations!"
To learn more about the 10% off Ceremony Only wedding packages visit: http://lasvegaswedding4u.com/wedding-packages/
About Always & Forever Weddings and Receptions:
Always & Forever is an award-winning wedding packages and ceremony consulting firm with several venues throughout the Las Vegas area. The firm is led by renowned wedding consultant Raquel Ryan.
Location:
Always & Forever Weddings and Receptions
2902 Lake East Drive, Las Vegas, NV 89117
(702) 318-5683 | (800) 259-2978
Contact Name: Raquel Ryan
Email: questions(at)lasvegaswedding4u(dot)com
Website: http://lasvegaswedding4u.com/contact-us/