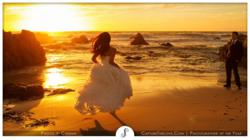 Capturing all the timeless moments of a wedding, from the scripted to the unscripted, and producing a truly cinematic video is what wedding cinema is all about
San Jose, CA (PRWEB) October 30, 2012
A wedding is the ultimate story of two people in love. With a bride and groom playing the lead roles, and captivating emotion from beginning to end, the entire production is fit for the silver screen. San Francisco professional photographer Michael Soo of Soo Photography now gives couples a "love like the movies" with the latest trend in wedding videography, wedding cinema.
"Capturing all the timeless moments of a wedding, from the scripted to the unscripted, and producing a truly cinematic video is what wedding cinema is all about," said Michael Soo. "It's a unique and creative way to share the couple's love story that will last forever."
Wedding cinema may be the start of a new wedding tradition, allowing the couple's loved ones the opportunity to have a keepsake of the special day that showcases their love in the way no other medium could.
As opposed to traditional documentary-style wedding videography, Soo Photography places attention on every detail of the big day while telling the entire story. Soo collaborates with the happy couples to be sure that the final product reflects their vision while also adding his elements of professional cinematography.
Soo now offers movie-like cinematography featuring special effects, scores and even costumes.
See examples of this on Soo's blog at capturethelove.com/cinema.
For a truly unique and everlasting way to celebrate and share wedding celebrations and love stories, inquire with Michael Soo, who is available across the San Francisco Bay Area and for destination weddings. Wherever the wedding is held, Soo is available to add his professional touch to any happy couple's nuptials.
For more information about wedding photography or cinematography visit Soo's blog Capture the Love dedicated to this very service. For any of Soo Photography's services, call Michael Soo at (408) 666-8455 or visit Soo Photography on the web at http://www.soophotography.com.
About Michael Soo and Soo Photography San Francisco
Photographer of the Year, Michael Soo is a San Francisco professional photographer who specializes in commercial, corporate, food, portrait, product, editorial, family, fashion, lifestyle, fine art, landscape, and wedding photography in San Francisco and videography.
Brought up in Asia and educated in America, Michael fuses the best of both cultures in his art form. He gives back to the community by giving photography and Photoshop classes. He hosts free photography forums for over a thousand active Northern California amateur and semi-pro photographers alike.
Named Popular Photography Magazine's Photographer of the Year, Michael Soo is an internationally respected photographer and guru of digital imaging. His collection of fine art and commercial photography includes executive portraits, lifestyle, products and food. His work has also been featured on numerous international magazine covers, newspapers (i.e. New York Times), as well as exhibits.
Soo Photography serves San Francisco and the Bay Area communities of Atherton, Belmont, Berkeley, Brisbane, Burlingame, Campbell, Colma, Corte Madera, Cupertino, Daly City, El Grenada, Foster City, Fremont, Gilroy, Hillsborough, Kensington, La Honda, Los Altos, Los Altos Hills, Los Gatos, Marin, Menlo Park, Millbrae, Mill Valley, Montara, Monte Sereno, Mountain View, Oakland, Pacifica, Palo Alto, Pescadero, Piedmont, Portola Valley, Redwood City, San Bruno, San Carlos, San Gregorio, San Mateo, San Francisco, San Jose, San Rafael, Santa Clara, Saratoga, Sausalito, Sunnyvale, Tiburon, and Woodside.