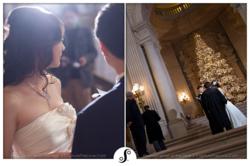 It takes a fast photographer to capture a small wedding artfully, and I am always up for such challenges," said Michael Soo, owner of Soo Photography.
San Jose, CA (Vocus/PRWEB) February 17, 2011
Couples who wish to get married at City Hall are often faced with a dilemma. They want the inexpensive, no-fuss qualities of a City Hall wedding, yet they still want it to be a memorable experience. Hiring a photographer for a quick wedding can be a challenge, as the photographer needs to work up to four times as fast as he would photographing a longer, traditional wedding. Michael Soo, a Bay Area photographer, now offers a special service that assures quality photographs at an affordable price for City Hall weddings.
"It takes a fast photographer to capture a small wedding artfully, and I am always up for such challenges," said Michael Soo, owner of Soo Photography. "It's a niche area I am happy to fill."
Unlike many professional photographers, who only book weddings of six hour and up, the award-winning photographer Michael Soo has packages catered to small, two-hour weddings, specifically for San Francisco City Hall and San Jose City Hall. He offers the opportunity for couples to have a wedding that is as beautifully documented as it is stress-free. He also guarantees a two-week turnaround for a full customized album designs.
"I have been working with Michael for my wedding photos and also some commercial photos. Michael captures photos professionally and artistically," says Soo Photography client Yi Ching. "Plus, his wonderful personality, professionalism and ability to capture special moments are absolutely amazing."
For more information about City Hall wedding photography or any of Soo Photography's services, call them at (408) 666-8455 or visit the website at http://www.soophotography.com.
About Michael Soo and Soo Photography San Francisco
Photographer of the Year, Michael Soo is a San Francisco professional photographer who specializes in commercial, corporate, food, portrait, product, editorial, family, fashion photography, lifestyle, fine art, landscape, and wedding photography and videography.
Brought up in Asia and educated in America, Michael fuses the best of both cultures in his art form. He gives back to the community by giving photography and Photoshop classes. He hosts free photography forums for over a thousand of active Northern California amateur and semi-pro photographers alike.
Named Popular Photography Magazine's Photographer of the Year, Michael Soo is an internationally respected photographer and guru of digital imaging. His collection of fine art and commercial photography includes executive portraits, lifestyle, products and food. His work has also been featured on numerous international magazine covers, newspapers (i.e. New York Times), as well as exhibits.
Soo Photography serves San Francisco and the Bay Area communities of Atherton, Belmont, Berkeley, Brisbane, Burlingame, Campbell, Colma, Corte Madera, Cupertino, Daly City, El Grenada, Foster City, Fremont, Gilroy, Hillsborough, Kensington, La Honda, Los Altos, Los Altos Hills, Los Gatos, Marin, Menlo Park, Millbrae, Mill Valley, Montara, Monte Sereno, Mountain View, Oakland, Pacifica, Palo Alto, Pescadero, Piedmont, Portola Valley, Redwood City, San Bruno, San Carlos, San Gregorio, San Mateo, San Francisco, San Jose, San Rafael, Santa Clara, Saratoga, Sausalito, Sunnyvale, Tiburon, and Woodside.
###