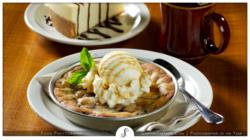 Most restaurant owners are astounded by how long food photography and styling takes until they experience the process
San Jose, CA (Vocus/PRWEB) June 15, 2011
Some say the eyes are the windows of the stomach, and anyone who sells food knows that a good picture is worth a thousand dollars. Anyone can take pictures of food—but results may vary. Even when food looks delicious in person, it is often difficult to photograph food so that it looks appetizing in the photo. Award-winning San Francisco photographer Michael Soo has photographed hundreds of dishes. He says there are six things that make a big difference in food photography.
As detailed in his photography blog, Soo recently photographed 11 of Pizz'a Chicago's 16 deep-dish pie combinations and seven other dishes in less than two days for Pizz'a Chicago, a Silicon Valley pizza restaurant. According to Soo, a shoot of this size would normally require up to three days, but Soo Photography works fast.
"Most restaurant owners are astounded by how long food photography and styling takes until they experience the process," said Soo. "Some shoots, like one for a BigMac™ sandwich, might require a long day just to produce one viable photograph."
Soo says there are a half a dozen important things to consider when photographing food:
1. Composition.The photographer needs to work with the graphic artist who will use the shot in marketing and advertising materials to understand both the dimensions and location of where the photograph will appear to ensure a proper fit.
2. Purpose. The goal of the marketing campaign should determine the lighting, props and setting. For Pizz'a Chicago, to create the rustic and homey feel they desired, Soo used the restaurant's pans and tables instead of a white background or fancier table.
3. Photograph food to sell. People will be drawn to a delicious-looking food photo in a menu. The business owner should select the dishes that they want to promote more and focus attention on making photos of those items the most appetizing.
4. Lighting. Lighting will make or break a food photograph. Mediocre lighting techniques can make the food and restaurant look cheap or sloppy.
5. Food styling. The stylist ensures the food looks great and the shot will be cohesive with other food shots. Sometimes the shoot will inspire the restaurant owner to make changes to make their food look more appetizing in person. Juan of Pizz'a Chicago decided he now wants all their Cookieza (A buttery chocolate chip cookie baked when ordered, topped with a Haagen-Daz vanilla ice-cream & drizzled with caramel sauce) to arrive with a sprig of mint behind the ice cream.
6. Owner engagement. Digital photography allows people to click the shutter and see the photograph immediately, so having the owner available to review and approve the photograph is ideal. It's easy to make changes while everything is set up; it's expensive if the crew needs to come back for a reshoot.
Soo says that dedicating sufficient time and money on high quality food photographs yields a high return on investment (ROI) for restaurants and food labeling and packaging companies. These images should be used on the menu, website, review sites, brochures, banners, tradeshow booths, coupons, etc.
For more information about food photography or any of Soo Photography's services, call Michael Soo at (408) 666-8455 or visit the website at http://www.soophotography.com.
About Michael Soo and Soo Photography San Francisco
Photographer of the Year Michael Soo is a San Francisco professional photographer who specializes in commercial, corporate, food, portrait, product, editorial, family, San Francisco fashion photography, lifestyle, fine art, landscape, and wedding photography in San Francisco and videography.
Brought up in Asia and educated in America, Michael fuses the best of both cultures in his art form. He gives back to the community by giving photography and Photoshop classes. He hosts free photography forums for over a thousand of active Northern California amateur and semi-pro photographers alike.
Named Popular Photography Magazine's Photographer of the Year, Michael Soo is an internationally respected photographer and guru of digital imaging. His collection of fine art and commercial photography includes executive portraits, lifestyle, products and food. His work has also been featured on numerous international magazine covers, newspapers (i.e. New York Times), as well as exhibits.
Soo Photography serves San Francisco and the Bay Area communities of Atherton, Belmont, Berkeley, Brisbane, Burlingame, Campbell, Colma, Corte Madera, Cupertino, Daly City, El Grenada, Foster City, Fremont, Gilroy, Hillsborough, Kensington, La Honda, Los Altos, Los Altos Hills, Los Gatos, Marin, Menlo Park, Millbrae, Mill Valley, Montara, Monte Sereno, Mountain View, Oakland, Pacifica, Palo Alto, Pescadero, Piedmont, Portola Valley, Redwood City, San Bruno, San Carlos, San Gregorio, San Mateo, San Francisco, San Jose, San Rafael, Santa Clara, Saratoga, Sausalito, Sunnyvale, Tiburon, and Woodside.
###