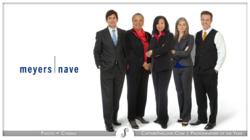 Anyone who has ever attempted to pick out the best company picture has run into the eternal problem of group photos: there is never one that everyone likes
San Jose, CA (PRWEB) November 01, 2011
Traditionally, getting a group photo that makes everyone happy has been nearly impossible. But San Francisco corporate photographer Michael Soo has has found a solution: taking individual portraits, and putting them together using the magic of Photoshop. In the latest post on his photography blog, Soo explains how this innovation is taking the hassle out of company photos, saving everyone time and tears.
"Anyone who has ever attempted to pick out the best company picture has run into the eternal problem of group photos: there is never one that everyone likes," Soo notes. "Someone is always blinking, making a weird face, sticking out their gut, looking in the wrong direction, sneezing, etc."
Soo says many companies are opting out of the whole headache, and choosing to have each team member photographed individually, with the best picture of each person merged together afterwards in Photoshop.
In Soo's new blog post, the San Francisco company photo specialist explains 6 benefits of this new technique:
1. No one will be unhappy with the final result anymore. Because they were photographed individually, each person can select their best photo out of 10-30 photographs taken.
2. It's easier for everyone to find the time to show up for the photo shoot. Scheduling a group of busy professionals is exponentially harder than individuals.
3. If a team member is added or removed from the team, there's no need to schedule EVERYONE for another group photo. We simply book a shoot with the new person, and add them to the shot.
4. It's so much easier and quicker to set up the shot, because the amount of space needed to take this type of group photo can be 10-20 times smaller than for a traditional group shot.
5. The same individual pictures can be inserted into various group pictures, so if someone works in more than one department, we can use the same portrait in multiple departments of a corporation!
6. And of course, it looks super cool. We play with the arrangement, and add in shadows and lighting techniques, so it appears that everyone was in the same place at the same time, and just magically happened to all look amazing!
Soo notes that while this method does cost more than traditional group photography, it saves on the cost of coordinating schedules and having to do retakes. Plus, the end result makes the whole group happy.
"If you want a group photo you'll actually be proud to post on your website and hang in your office, consider trading in the traditional technique for our more modern method," he suggests.
For more information about this new approach to group photography or any of Soo Photography's services, call Michael Soo at (408) 666-8455 or visit http://www.soophotography.com.
About Michael Soo and Soo Photography San Francisco
Photographer of the Year Michael Soo is a San Francisco professional photographer who specializes in commercial, wedding, food, portrait, product, editorial, family, fashion, lifestyle, fine art, landscape, and corporate photography in San Francisco. He is also a wedding and love story videographer.
Brought up in Asia and educated in America, Michael fuses the best of both cultures in his art form. He gives back to the community by giving photography and Photoshop classes. He hosts free photography forums for over a thousand of active Northern California amateur and semi-pro photographers alike.
Named Popular Photography Magazine's Photographer of the Year, Michael Soo is an internationally respected photographer and guru of digital imaging. His collection of fine art and commercial photography includes executive portraits, lifestyle, products and food. His work has also been featured on numerous international magazine covers, newspapers (i.e. New York Times), as well as exhibits.
Soo Photography serves San Francisco and the Bay Area communities of Atherton, Belmont, Berkeley, Brisbane, Burlingame, Campbell, Colma, Corte Madera, Cupertino, Daly City, El Grenada, Foster City, Fremont, Gilroy, Hillsborough, Kensington, La Honda, Los Altos, Los Altos Hills, Los Gatos, Marin, Menlo Park, Millbrae, Mill Valley, Montara, Monte Sereno, Mountain View, Oakland, Pacifica, Palo Alto, Pescadero, Piedmont, Portola Valley, Redwood City, San Bruno, San Carlos, San Gregorio, San Mateo, San Francisco, San Jose, San Rafael, Santa Clara, Saratoga, Sausalito, Sunnyvale, Tiburon, and Woodside.
###