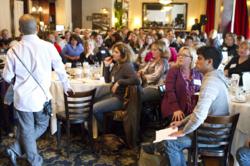 This photography class can help open up the artistic eye for anyone with a camera
San Francisco, CA (PRWEB) January 04, 2012
Photography novices and amateurs are invited to learn portrait photography secrets from award-winning San Francisco portrait photographer Michael Soo in a fun and informative day-long workshop, "Photography Made Simple," on January 29th or February 4th at The Lookout in Sunnyvale. Michael's simple techniques help participants lift their pictures to a new level. Registration is open now at http://www.soophotography.com/workshop/, and space is limited.
"I designed this photography workshop to be accessible to amateurs who want to deepen their skills and people with little or no experience. This photography class can help open up the artistic eye for anyone with a camera, even those with a cell phone camera," says Michael Soo.
The class will focus on utilizing composition to tell a story with photographs. Participants will learn to pose large groups and individuals. Michael will help students understand lighting technique and how to utilize light to create mood, and show the class how to use windows and household items to shape light. The workshop will finish with Photoshop tips and tricks to put the final touch on photographs.
Students will learn how to maximize their digital or film camera, and truly understand the foundation of using a camera, from basic to advanced techniques. Participants are encouraged to bring a camera, preferably an SLR camera, and a notepad or laptop.
"The workshop exceeded my expectations. In addition to being very informative, it was also most enjoyable," said one photo workshop participant. "From the first minute to the very end I was captivated."
Michael is offering two sessions of "Photography Made Simple": Sunday, January 29th or Saturday, February 4th, from 9am to 3pm. The seminars will be held at The Lookout, located at 605 Macara Ave, Sunnyvale, CA 94085. Breakfast and lunch are included. The sessions are expected to fill quickly, so participants are encouraged to register soon at http://www.soophotography.com/workshop/.
For more information about photography classes or any of Soo Photography's services, call Michael Soo at (408) 666-8455 or visit http://www.soophotography.com.
About Michael Soo and Soo Photography San Francisco
Photographer of the Year Michael Soo is a San Francisco professional photographer who specializes in commercial, wedding, food, corporate, product, editorial, family, fashion, lifestyle, fine art, landscape, and portrait photography in San Francisco. He is also a wedding and love story videographer and director.
Brought up in Asia and educated in America, Michael fuses the best of both cultures in his art form. He gives back to the community by giving photography and Photoshop classes. He hosts free photography forums for over a thousand of active Northern California amateur and semi-pro photographers alike.
Named Popular Photography Magazine's Photographer of the Year, Michael Soo is an internationally respected photographer and guru of digital imaging. His collection of fine art and commercial photography includes executive portraits, lifestyle, products and food. His work has also been featured on numerous international magazine covers, newspapers (i.e. New York Times), as well as exhibits.
Soo Photography serves San Francisco and the Bay Area communities of Atherton, Belmont, Berkeley, Brisbane, Burlingame, Campbell, Colma, Corte Madera, Cupertino, Daly City, El Grenada, Foster City, Fremont, Gilroy, Hillsborough, Kensington, La Honda, Los Altos, Los Altos Hills, Los Gatos, Marin, Menlo Park, Millbrae, Mill Valley, Montara, Monte Sereno, Mountain View, Oakland, Pacifica, Palo Alto, Pescadero, Piedmont, Portola Valley, Redwood City, San Bruno, San Carlos, San Gregorio, San Mateo, San Francisco, San Jose, San Rafael, Santa Clara, Saratoga, Sausalito, Sunnyvale, Tiburon, and Woodside.
# # #