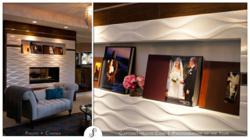 It's the perfect place for couples who are getting married to get comfortable, have some wine and cheese, and chat with us about their plans
San Jose, CA (PRWEB) January 10, 2012
After 3 months of nonstop construction noise and nerve-racking decision making, the renovation of Soo Photography's studio is complete. New skylights, windows, and LED fixtures have transformed the dark studio into a sun-drenched haven perfect for photo shoots in San Jose. The elegant modern furniture, 2-way fireplace, and sensual wedding-themed design give the studio the feel of an upscale lounge.
"We spent 3 months dealing with the fine white dust from the drywall, the teeth-shattering jackhammering, and the noise from dawn till dusk. Renovation is super stressful, especially if, like me, you're someone who is meticulous about the tiniest details: light, color, the shape of the tiles, design, ambiance, and on and on," says Michael Soo. "But the good news is that our studio renovation is finally complete! Champagne all around, please! Happy New Year!!!"
The new interior, designed by the Soo Photography team, is dappled with natural light from the 7 new skylights and many new windows. Over 60 new light fixtures, most of which use energy-efficient LED lights, brighten the space.
The interior has a wedding theme with a glamorous, contemporary, warm and extremely sexy feel. "The furniture is modern and cozy, the perfect place for couples who are getting married to get comfortable, have some wine and cheese, and chat with us about their plans," says the San Francisco photographer.
An elongated see-through fireplace is set into one wall. One side features beautifully curved tiles, bordered by wood. The other side has a large black granite surround, sitting on a sensual red wall.
"The see-through fireplace is fun because it's essentially 2 fireplaces in one," explains Soo.
The salon also received a facelift with new light fixtures, glass French doors and new flooring.
To make an appointment to visit the new studio, or for information about any of Soo Photography's services, call Michael Soo at (408) 666-8455 or visit http://www.soophotography.com.
About Michael Soo and Soo Photography San Francisco
Photographer of the Year Michael Soo is a San Francisco professional photographer who specializes in commercial, wedding, food, corporate, product, editorial, family, fashion, lifestyle, fine art, landscape, and portrait photography in San Francisco. He is also a wedding and love story videographer and director.
Brought up in Asia and educated in America, Michael fuses the best of both cultures in his art form. He gives back to the community by giving photography and Photoshop classes. He hosts free photography forums for over a thousand of active Northern California amateur and semi-pro photographers alike.
Named Popular Photography Magazine's Photographer of the Year, Michael Soo is an internationally respected photographer and guru of digital imaging. His collection of fine art and commercial photography includes executive portraits, lifestyle, products and food. His work has also been featured on numerous international magazine covers, newspapers (e.g. New York Times), as well as exhibits.
Soo Photography serves San Francisco and the Bay Area communities of Atherton, Belmont, Berkeley, Brisbane, Burlingame, Campbell, Colma, Corte Madera, Cupertino, Daly City, El Grenada, Foster City, Fremont, Gilroy, Hillsborough, Kensington, La Honda, Los Altos, Los Altos Hills, Los Gatos, Marin, Menlo Park, Millbrae, Mill Valley, Montara, Monte Sereno, Mountain View, Oakland, Pacifica, Palo Alto, Pescadero, Piedmont, Portola Valley, Redwood City, San Bruno, San Carlos, San Gregorio, San Mateo, San Francisco, San Jose, San Rafael, Santa Clara, Saratoga, Sausalito, Sunnyvale, Tiburon, and Woodside.
###