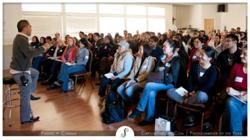 We are looking forward to meeting everyone who comes to these classes!
San Jose, CA (PRWEB) February 03, 2012
On, Sunday, January 29th, 150 beginning and amateur photographers gathered for a day-long photography workshop with award-winning San Francisco portrait photographer Michael Soo at The Lookout in Santa Clara. The fun and informative workshop, "Photography Made Simple," focused on utilizing composition to tell a story with photographs. Michael will teach another session on Saturday, February 4th. He will also teach an intermediate/advanced workshop on Sunday, February 26th. Registration is open at http://www.soophotography.com/workshop/, and space is limited.
"This class was one of the most engaged and excited groups we've ever had. Everyone was excited to try new things and asked great questions. The day just flew by!" said Michael.
Students learned how to maximize their digital or film cameras, and truly understand the foundation of using a camera. Participants learned how to pose large groups and individuals. Michael explained lighting technique and how to utilize light to create mood, and showed the class how to use windows and household items to shape light. The workshop finished with Photoshop tips and tricks to put the final touch on photographs.
On February 4th, Michael will hold another session of "Photography Made Simple." The introductory photography class is already sold out, but those interested in learning the art of photography are encouraged to join the mailing list to be the first to find out when the next session will be held.
The San Francisco photography teacher will also hold an intermediate/advanced photography workshop on February 29th. It is common knowledge that the best way to get the perfect photograph is to capture it with the shot, instead of trying to fix it up in Photoshop later. "Garbage in, garbage out," goes the saying.
"But how do you get beautiful shots on the fly? Come find out!" invites Michael. "This class will teach techniques you can use to create standout photos, whether you're photographing portraits, food, products, or anything else you can think of."
The photography seminars run from 9 am to 3 pm at The Lookout, located at 605 Macara Ave, Sunnyvale, CA 94085. Breakfast and lunch are included. Students should bring a camera (preferably an SLR) and a notebook or laptop.
"We are looking forward to meeting everyone who comes to these classes! Getting to teach these workshops is one of our favorite parts of the job, and we truly appreciate each and every person who decides to spend a day taking pictures and having fun with us," declares Michael.
For more information about photography classes or any of Soo Photography's services, call Michael Soo at (408) 666-8455 or visit http://www.soophotography.com.
About Michael Soo and Soo Photography San Francisco
Photographer of the Year Michael Soo is a San Francisco professional photographer who specializes in commercial, wedding, food, corporate, product, editorial, family, fashion, lifestyle, fine art, landscape, and portrait photography in San Francisco. He is also a wedding and love story videographer and director.
Brought up in Asia and educated in America, Michael fuses the best of both cultures in his art form. He gives back to the community by giving photography and Photoshop classes. He hosts free photography forums for over a thousand of active Northern California amateur and semi-pro photographers alike.
Named Popular Photography Magazine's Photographer of the Year, Michael Soo is an internationally respected photographer and guru of digital imaging. His collection of fine art and commercial photography includes executive portraits, lifestyle, products and food. His work has also been featured on numerous international magazine covers, newspapers (i.e. New York Times), as well as exhibits.
Soo Photography serves San Francisco and the Bay Area communities of Atherton, Belmont, Berkeley, Brisbane, Burlingame, Campbell, Colma, Corte Madera, Cupertino, Daly City, El Grenada, Foster City, Fremont, Gilroy, Hillsborough, Kensington, La Honda, Los Altos, Los Altos Hills, Los Gatos, Marin, Menlo Park, Millbrae, Mill Valley, Montara, Monte Sereno, Mountain View, Oakland, Pacifica, Palo Alto, Pescadero, Piedmont, Portola Valley, Redwood City, San Bruno, San Carlos, San Gregorio, San Mateo, San Francisco, San Jose, San Rafael, Santa Clara, Saratoga, Sausalito, Sunnyvale, Tiburon, and Woodside.
# # #