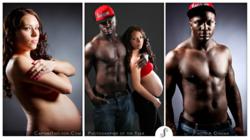 They were filled with that glow that only parents-to-be can give off. The camera just loved them!
San Jose, CA (PRWEB) March 09, 2012
Tavares Gooden is best known by football fans from his work as a linebacker for the Baltimore Ravens from 2008-10 and for the San Francisco 49ers this past season, but these days he's in training for a really tough job: dad to his baby Kadence, who is due in April. Tavares and mom-to-be Tess Fike recently dropped by the studio of San Francisco portrait photographer Michael Soo to capture the joy of getting ready to welcome their new baby.
"We recently had the honor of doing a pregnancy photo shoot with one of the most beautiful, totally in love couples we've ever met: Tess Fike and Tavares Gooden," said Michael. "It was so much fun to shoot Tess and Tavares because a) they're both so good-looking and b) they were filled with that glow that only parents-to-be can give off. The camera just loved them!"
The San Francisco pregnancy photographer captured the couple together and separately, with several outfit changes and in various states of undress.
"We decided to shoot in the studio with a basic grey background so the focus would be on Tess and Tavares, with no distractions. We wanted the lighting to be a bit dramatic, so we played with the contrast between light and dark, shine and shadow," explained Michael.
Highlights from the shoot include several images of the radiant couple embracing, individual shots, and a simple but moving shot of their hands making a heart shape over Tess's belly.
"Many couples are a little nervous in front of the camera, but these two were completely comfortable together," noted Michael.
Michael says taking pregnancy photos is one of his team's favorite kinds of photo shoots. "Couples always tell us they're so glad they captured this moment, because they're so busy in the moment with getting ready for the new baby that the whole experience becomes a blur in their memories. The pictures will always be there remind them of the excitement and anticipation of bringing a new baby into the world. And for us, it's amazing to be there with a couple as they get ready to welcome their new child."
For more information about pregnancy photography or any of Soo Photography's services, call Michael Soo at (408) 666-8455 or visit http://www.soophotography.com.
About Michael Soo and Soo Photography San Francisco
Photographer of the Year Michael Soo is a San Francisco professional photographer who specializes in commercial, wedding, food, corporate, product, editorial, family, fashion, lifestyle, fine art, landscape, and portrait photography in San Francisco. He is also a wedding and love story videographer and director.
Brought up in Asia and educated in America, Michael fuses the best of both cultures in his art form. He gives back to the community by giving photography and Photoshop classes. He hosts free photography forums for over a thousand of active Northern California amateur and semi-pro photographers alike.
Named Popular Photography Magazine's Photographer of the Year, Michael Soo is an internationally respected photographer and guru of digital imaging. His collection of fine art and commercial photography includes executive portraits, lifestyle, products and food. His work has also been featured on numerous international magazine covers, newspapers (i.e. New York Times), as well as exhibits.
Soo Photography serves San Francisco and the Bay Area communities of Atherton, Belmont, Berkeley, Brisbane, Burlingame, Campbell, Colma, Corte Madera, Cupertino, Daly City, El Grenada, Foster City, Fremont, Gilroy, Hillsborough, Kensington, La Honda, Los Altos, Los Altos Hills, Los Gatos, Marin, Menlo Park, Millbrae, Mill Valley, Montara, Monte Sereno, Mountain View, Oakland, Pacifica, Palo Alto, Pescadero, Piedmont, Portola Valley, Redwood City, San Bruno, San Carlos, San Gregorio, San Mateo, San Francisco, San Jose, San Rafael, Santa Clara, Saratoga, Sausalito, Sunnyvale, Tiburon, and Woodside.