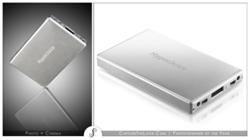 People are largely visual creatures and an inviting image is imperative to marketing your product
San Jose, CA (PRWEB) September 07, 2012
San Francisco professional photographer Michael Soo reveals tips and tricks on how to present products in a professional and desirable way. These pointers may prove helpful for businesses looking for new ways to market their products.
"People are largely visual creatures and an inviting image is imperative to marketing your product," said Michael Soo. "Whether it's for electronics, food, clothing or jewelry, there are a few simple rules that anyone can use to make those product images pop."
Soo typically places products in an all-white background for a variety of purposes. He explains in further detail as to why white backgrounds can be so affective on consumers.

A white background has a happier look compared to black dreary background.
A white background offers a clean and sophisticated look.
The lack of color aside from the product itself draws the attention to the product instead of distractions.
The white backdrop look is also easier on the eyes and offers consistency throughout websites or catalogs
Another route is a white backdrop accompanied with a slight reflection of the product at the bottom. This offers a sleek and polished look that is highly sought after.
A white background is a simple and effective way to quickly bring a photo of a product to a distinctly professional level. Michael Soo shares even more tips to make product photos
Lighting - possibly the most important part of lighting is that reflective products
such as bottles of wine and sleekly designed electronics need to be lighted in a controlled environment, as to showcase the shape of the product.
Most of these are achieved using studio lights that are three to ten times the size of the products. That way, the light will wrap around the item, showcasing the lines instead of distracting the view.
A silhouette also reduces the distraction on what the models look like and let the viewer focuses on the product itself.
Lenses to use are just as important. We normally use a tilt-shift specialty
lens for products to ensure that proper areas are in focus while areas that
we don't need to focus on, will fall out of focus.
Michael Soo specializes in product photography to be used in marketing campaigns, websites, catalogues, flyers, posters or however the client deems appropriate.
For more information about product photography or any of Soo Photography's services, call Michael Soo at (408) 666-8455 or visit http://www.soophotography.com.
About Michael Soo and Soo Photography San Francisco
Photographer of the Year Michael Soo is a San Francisco professional photographer who specializes in commercial, food, corporate, product, editorial, family, fashion, lifestyle, fine art, landscape, portrait and wedding photography in San Francisco. Michael Soo is also a San Francisco food photographer.
Brought up in Asia and educated in America, Michael fuses the best of both cultures in his art form. He gives back to the community by giving photography and Photoshop classes. He hosts free photography forums for over a thousand of active Northern California amateur and semi-pro photographers alike.
Named Popular Photography Magazine's Photographer of the Year, Michael Soo is an internationally respected photographer and guru of digital imaging. His collection of fine art and commercial photography includes executive portraits, lifestyle, products and food. His work has also been featured on numerous international magazine covers, newspapers (i.e. New York Times), as well as exhibits.
Soo Photography serves San Francisco and the Bay Area communities of Atherton, Belmont, Berkeley, Brisbane, Burlingame, Campbell, Colma, Corte Madera, Cupertino, Daly City, El Grenada, Foster City, Fremont, Gilroy, Hillsborough, Kensington, La Honda, Los Altos, Los Altos Hills, Los Gatos, Marin, Menlo Park, Millbrae, Mill Valley, Montara, Monte Sereno, Mountain View, Oakland, Pacifica, Palo Alto, Pescadero, Piedmont, Portola Valley, Redwood City, San Bruno, San Carlos, San Gregorio, San Mateo, San Francisco, San Jose, San Rafael, Santa Clara, Saratoga, Sausalito, Sunnyvale, Tiburon, and Woodside.