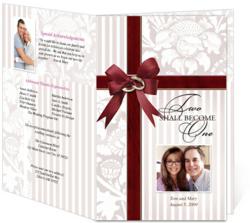 Our wedding templates include every printed material used for a wedding.
San Francisco, CA (PRWEB) January 18, 2013
The perfect nuptial day begins with chic invitations and printed materials. To save brides time, money and stress, Carole Galassi, CEO and founder of Celebrations of Life, has announced the addition of new wedding program templates to the firm's online store.
"Our wedding templates include every printed material used for a wedding," said Galassi. "Whether large or small, we have the perfect elegant design that every bride will love. They are easy to use and provide a great cost effective solution."
The Celebrations of Life Store is a leading provider of printed materials for fashionable weddings. Nuptial celebrations are wonderful, exciting and stress filled events, and the firm alleviates the worry of finding the right design for the occasion. The store has wedding templates that provides couples with memorable invitations for everything from the bachelorette party and RSVP cards to wedding programs and reception menus.
The store offers wedding program templates in an extensive array of styles to accommodate a wide range of individual tastes. Couples can choose from gatefold, long fold and graduated fold designs, along with single fold letter size and legal size bi-folds for the perfect accompaniment to any venue. Trifold brochures are also available.
Pre-wedding parties play an important part in the days leading up to the exchange of vows. To announce the events, Celebrations of Life offers fun and fancy invitation templates for bachelorette parties and bridal showers that reflect the nature of the festivities to come.
For the main event, couples will find chic and elegant wedding invitations that capture their unique nature and the future before them. Classy invitations don't have to cost a fortune and the store's templates offer an affordable solution for weddings of all sizes and budgetary concerns.
RSVP cards are an essential part of the wedding templates offered at Celebrations of Life. They provide the information couples need to plan for attending guests and clients can follow up with reception menu templates. Once those who will attend are confirmed, couples can complete their plans with the firm's reception place cards and save-the-date templates.
Fans can follow the firm on Facebook at https://www.facebook.com/CelebrationsOfLifeStore, on Pinterest at http://pinterest.com/carolegalassi, and on Google Plus at https://plus.google.com/117756877911566362131/posts. The site maintains an informative blog and article archive to address an extensive array of occasion-related topics.
The new wedding program templates at the Celebrations of Life Store provide couples with an affordable solution that relieves the stress of locating fashionable printed material for their nuptials. Elegant, fun and classy designs are available to suit an extensive array of themes. Templates are easy to use, giving couples more time to focus on their future together.
Celebrations of Life can be reached toll-free by phone at 1-800-773-9026. For more information, visit the website at http://www.celebrationsoflifestore.com.