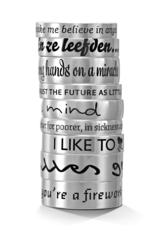 Typerings.com combines traditional craftsmanship with the desire of today's consumer for personalization
— Rik Heijmen, founder
(PRWEB) June 29, 2011
When given the choice, consumers are more likely to enjoy self-created pieces that they can truly call their own. Jeans, bicycles, shoes, books, handbags, sport shoes, iPhone covers and even beer bottles can be personalized. It's one of the main consumer trends that is affecting how we shop.
Every ring has its story
While rings in itself are extremely personal, getting your ring engraved the way you want to was still too difficult. The new website enables people to create just about any ring they want: engagement and wedding rings, rings with a personal motto or spiritual message, rings with baby names or rings to remember someone by.
Typerings.com's ring designer is simple to use: type your text, choose a font and let us engrave your ring. The text appears on a ring in full 3D and is visible from all angles. Alternatively, upload your own design and view it on the ring, before sharing it via twitter and Facebook.
While this idea seems obvious, there just wasn't a 'Nike iD for jewelry'. Founder, Angel investor and ex 'Ad Man' Rik Heijmen explains why: "I've come to know the jewelry industry as extremely fashionable and trend-sensitive on one hand, but innovation-lacking on the other". His ideas bring a fresh approach to an industry that has barely noticed the internet revolution: "Typerings.com combines traditional craftsmanship with the desire of today's consumer for personalization."
The silver and 14 carat gold rings are made to order by Dutch jeweler, Aller Spanninga, which has been around since 1863. The rings are then hand-finished in Amsterdam, before being shipped off to over 30 countries across the globe.
About Alphabeth
Alphabeth founders Rik Heijmen and Tanja Soeter envisioned exactly what their wedding rings should look like: basic wide bands, in white gold with a text in a tasteful type, engraved on the outside. To their surprise they couldn't find a stylish and affordable way to create custom-designed, engraved rings online. That's when the idea to start the business was born.
Visit our press section for more information.
###