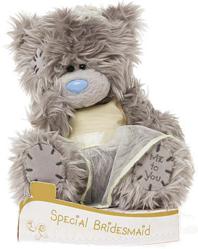 Our wedding thank you gift ideas offer a gentle reminder about the various people you might want to formally thank for their help. We've also listed a range of thank you gift ideas that make a change from traditional flowers and tankards."
(PRWEB UK) 25 May 2011
While most weddings are unlikely to bring London to a standstill or generate an extra Bank Holiday as experienced with the recent Royal nuptials, bride and grooms throughout the country will want to make their wedding a day to remember.
To make sure it's an unforgettable day for everyone involved, Big Fat Balloons, the balloons and gifts website has put together a range of wedding thank you gift ideas for bridesmaids and best man gifts to thank-you gifts for mums, dads and even the wedding cake maker.
As Sophie Baxter, managing director, Big Fat Balloons explained: "A great deal of organisation goes into planning a wedding, no matter how formal or informal, and the bride and groom are usually helped by friends and family. It means that, even with very small weddings there is usually someone to thank for their help – although it might just be the witnesses."
"Our wedding thank you gift ideas offer a gentle reminder about the various people you might want to formally thank for their help. We've also listed a range of thank you gifts that make a change from traditional flowers and tankards."
For instance, while jewellery is a traditional, and often welcome, wedding thank you gift for bridesmaids, Big Fat Balloons, suggests being a bit more adventurous with your thank you gifts. Experience gifts, such as spa days or theatre breaks are a great way to treat bridesmaids to their own 'special day'. Alternatively, an adventure day out could give them a day to remember.
Younger bridesmaids are more likely to be impressed with a gift they can play with immediately. Big Fat Balloons' Bridesmaid teddy bears are proving incredibly popular gifts for younger children.
As men can be difficult to buy for at the best of times, Big Fat Balloons suggestions for best man and usher thank you gifts will come in useful for anyone tying the knot this year. It's easy to make traditional gifts, such as shot glasses or hip flasks extra special, by having them personalised with the best man or usher's name and the date of the wedding.
For weddings on a budget, Big Fat Balloons suggests something that little bit quirky, for example wedding party socks, that the best man, ushers, groom and even father of the bride can wear on the day.
With wedding thank you gifts for mums, dads and step parents, Big Fat Balloons' has something for everyone. And finally it's worth remembering all those other people who help to make a wedding special. If friends or family helped make the cake, table displays, invitations or design the bridesmaid dresses or the wedding dress, then it's important to thank them properly. Thank you balloons or chocolates delivered directly to their door will make fun and memorable gifts for all involved.
###