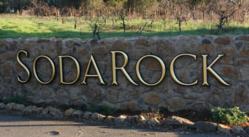 Most impressive is the Tower Suite, which started life as a historic water tower, with a 360-degree view, a gorgeous third-story bedroom view of vineyards, and unparalleled star gazing right from the comfort of a king bed
Healdsburg, CA (PRWEB) November 28, 2012
Soda Rock Winery is proud to announce the addition of its lodging. After working hard to finish the guest suites, Sonoma's best winery has thrown open its doors to wine lovers wanting to sojourn in the heart of Alexander Valley.
"Most impressive is the Tower Suite, which started life as a historic water tower, with a 360-degree view, a gorgeous third-story bedroom view of vineyards, and unparalleled star gazing right from the comfort of a king bed," Dawn Dolan of Soda Rock Winery said. "With a full kitchen and sitting area, this spectacular suite is sure to appeal to those looking for the remarkable."
Two suites at the opposite end of the winery feature private decks overlooking the vineyards, and include completely remodeled and spacious rooms. Vineyard views, both front and back, complete the charm of this pair of handicap accessible suites. The Barn Suite has a full kitchen and the Vineyard Suite has a kitchenette--both of which are handicap accessible. The Artist Suite features all the cozy amenities expected, entirely within a setting of fine artwork.
"For our grand opening special this month, one $75 gift certificate per room will be offered for each full weekend booking, which is applicable toward your wine purchase at either Soda Rock or sister winery deLorimier, located just five minutes up the valley. Call us to reserve now," Dolan said.
Soda Rock Winery is also the perfect Sonoma wedding venue for those dreaming of a beautiful winery wedding. Its private event space, coupled with excellent service, helps make every special occasion run smoothly. The winery features a spacious bar and picnic grounds, offering a gorgeous view of Alexander Valley.
For more information about any of Soda Rock Winery's products or services, call 707-385-9280 or 707-433-4355, view the wedding venue on the Web at http://www.sodarockwinery.com, or visit 8015 Highway 128 in Healdsburg.
About Soda Rock Winery
Soda Rock Winery is nestled in Sonoma's scenic Alexander Valley. This extraordinary wedding venue offers locals and tourists the opportunity to enjoy a delicious array of wines, as well as a historic facility for winery weddings and other social gatherings.