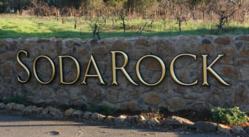 When a bride and groom reserve one of our venues for their wedding, we will offer another winery in our portfolio for their rehearsal dinner, with the facility fee starting at $1,500
Healdsburg, CA (PRWEB) April 20, 2012
Sonoma's best winery and wedding venue, Soda Rock Winery, is currently offering soon-to-be-married couples a special that will enable them to extend their winery wedding celebration.
"When a bride and groom reserve one of our venues for their wedding, we will offer another winery in our portfolio for their rehearsal dinner, with the facility fee starting at $1,500," Isabelle Adams, Soda Rock Winery's certified wedding planner said. "Or the couple may opt for a brunch, beginning at $1,000, that is based on the guest count and the timeline."
Soda Rock Winery serves as the perfect venue for those dreaming of a beautiful winery wedding. Its private event space, coupled with the excellent service, helps make every special occasion run smoothly and memorably.
Soda Rock Winery would also like to remind wine club members that they may enjoy their discount when renting Soda Rock's "wine cellar" for an event. In addition, wine club members receive special rates for lodging at any of Soda Rock Winery's accommodations or the historic Calderwood Inn, located in downtown Healdsburg.
Nestled in Sonoma County's scenic Alexander Valley, Soda Rock Winery offers visitors the opportunity to enjoy an eclectic mix of wine-country experiences. Between its extraordinary wedding venue and excellent wine tours, Soda Rock Winery also hosts events for other occasions, such as private dinners with its chef, food pairings, meetings and more.
"Going into the future, watch out for our upcoming Elopement Packages," Adams revealed.
For more information about any of Soda Rock Winery's events or services, call 707-529-8045 or 707-433-3303, view the winery on the web at http://www.sodarockwinery.com, or visit 8015 Highway 128 in Healdsburg.
About Soda Rock Winery
Soda Rock Winery is nestled in Sonoma's County's scenic Alexander Valley. This extraordinary venue offers locals and tourists the opportunity to enjoy a delicious array of wines, as well as a historic facility for wedding venues and other social gatherings.