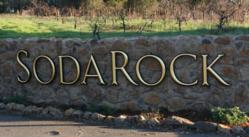 The Wilsons, who began this fundraiser in 2002 in partnership with the Sonoma County Farm Bureau, donate 100 percent of the profits from this event
Healdsburg, CA (PRWEB) May 26, 2012
Soda Rock Winery, the best winery for social gatherings and winery weddings in Sonoma's Alexander Valley, recently held its annual charity event for the benefit of the Children of Vineyard Workers Scholarship Fund. The fundraiser, sponsored by Soda Rock Winery owners Ken and Diane Wilson, was themed "Viva Las Vegas" and was held in the winery on May 12.
"The Wilsons, who began this fundraiser in 2002 in partnership with the Sonoma County Farm Bureau, donate 100 percent of the profits from this event," Dawn Dolan of Soda Rock Winery said. "The donation funds scholarships for the higher education of vineyard workers' children throughout Sonoma County. Nineteen such scholarships were awarded last year, with the funds granted to scholarship applicants by the Farm Bureau."
The May 12 fundraiser brought Las Vegas to Soda Rock and featured silent and live auctions for fabulous items, such as vineyard house stays with private winery tours, destination vacations in Mendocino and Mexico, a VIP package to the Giants, several wine collections and a private flight over wine country, as well as tickets to 2013 Passport to Dry Creek Valley and the 2013 Zinfandel Advocates and Producer's (ZAP) event.
"In attendance at this year's Viva Las Vegas-themed event were 130 people, who enjoyed the Vegas-style games and ambiance," Dolan said. "Entertainment was provided by a local Elvis impersonator."
Fifteen volunteers from the various Wilson Artisan Wineries staffed the event, donating their time to help with this worth-while charity. Local stores and businesses also pitched in to donate artisan breads, water and gift bags.
For more information about any of Soda Rock Winery's products or services, call 707-385-9280 or 707-433-4355, view the winery on the Web at http://www.sodarockwinery.com, or visit 8015 Highway 128 in Healdsburg.
About Soda Rock Winery
Soda Rock Winery is nestled in Sonoma's scenic Alexander Valley. This extraordinary venue offers locals and tourists the opportunity to enjoy a delicious array of wines, as well as a historic facility for wedding venues and other social gatherings.